The upcoming Motorola Droid 2 smartphone is set to be the first phone to ship with highly anticipated next-gen Android mobile operating system 2.2 Froyo pre-installed, according to reports. The successor to the original Droid is expected to arrive in stores in August, just after its older sibling, the Motorola Droid X, is due to receive the Android 2.2 update.
Android 2.2 brings several improvements over 2.1, like a significant speed bump, support for Adobe Flash 10.1, and the ability to install applications on an SD card. (see related: Android 2.2: What We Know So Far)
Images and specifications of the Motorola Droid 2 leaked a few months ago, and Engadget recently uncovered pictures of the phone hidden in Verizon's promotional Droid site. Meanwhile, the DroidLife blog has posted photos of the Droid 2 running Android 2.2, while a leaked image from the Phandroid blog shows what looks to be Verizon's database, confirming that Froyo will ship with the Droid 2. (Image below is from Droid Life site)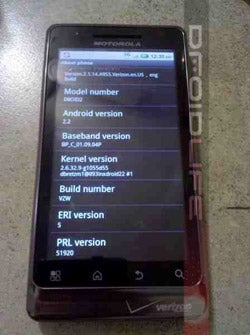 Though there is still no official confirmation from either Motorola or Verizon on whether the Droid 2 will come pre-installed with Froyo, all evidence points in this direction. The two companies said the successful Droid X, which shipped with the older Android 2.1 OS, would receive the Froyo update toward the end of July. Given this information, there is no apparent reason why the Droid 2, coming in late August, should not come with 2.2 pre-installed.
From leaked pictures and specifications of the Droid 2 – the direct successor of the original Motorola Droid – we know it will have a refined look and keyboard, a 1GHz processor, 512MB of RAM, an 8GB memory card, and rock a 5-megapixel camera. Droid 2 will also feature Motorola's MotoBlur skin for Android. The price tag is expected to be around $200 with a two-year Verizon contract, in line with most smartphones in that range.