Editor's note: The following corrections have been made to this article: We should have said that the HP OfficeJet Pro 8000 Wireless inkjet printer has just one standard input tray and that the cost of the OKI C610dtn color printer is $799. Also, one product mentioned, the Lexmark Prestige Pro805, has been discontinued. PCWorld regrets the errors.
Printers are money pits: You pay for the machine, and then you keep on paying more for the ink or toner it needs to produce your documents. With some lower-end models, your first set of replacement consumables may cost almost as much as the printer itself.
But you don't have to crack into your 401(k) just to run your printer. You can reduce your printing costs by buying the right printer in the first place—and keeping close watch on your printing habits afterward.
Before you buy a new printer, it's smart to find out how much replacement ink cartridges or toner drums cost for the machine you're considering and to look up how many pages each cartridge or drum will produce so you can calculate your cost per page. (Read "Ink and Toner Costs: Do The Math and Don't Get Reamed" for more details.)
I've done some of the hard work for you, though. In this story, I'll give you my picks for the latest inkjet, snapshot, and color laser printers that save you money and still produce good results.
Even if you buy a printer that's relatively cheap to run, really saving money may require changing your own behavior. Make a habit of printing in draft mode to reduce ink or toner consumption, saving the nicest quality for customers or special occasions. Check your driver for "n-up printing" (also known as "2-in-1" or "4-in-1," for example), which lets you squeeze multiple pages' worth of content onto one sheet of paper. Print less, of course—which is easier now that sharing PDF files and other documents on­­line is becoming commonplace.
Everyone knows that third-party, refilled, or remanufactured inks are cheaper than the inks sold by the original vendors. And many people go that route, despite vendors' ef­­forts to coax, cajole, or scare them back onto the straight and narrow path. But what is it like off-road—are the horror stories from printer manufacturers true? Earlier PCWorld research indicated that the risks lie chiefly in print quality and reliability, which may not concern you if perfect prints aren't your priority. Serious penny-pinchers do the reloading themselves; in "Portrait of a Serial Refiller", I profile a man who refilled the same cartridge for five years before it finally gave out.
Saving on printer costs starts with the printer itself, but it also pays to educate yourself about what you can do or buy to make it even cheaper to use over time. If you shop carefully, you can save a lot of money and still enjoy high-quality prints.
Inkjet Printers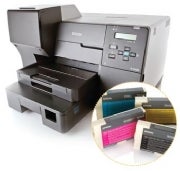 The rule of thumb with inkjet printers is that the less expensive the printer is, the more the ink will cost you. The rule's origins lie in ink-cartridge configuration and capacity. Lower-end inkjets might have a configuration with a tricolor cartridge, combining cyan, magenta, and yellow inks into one package. Tricolor cartridges usually end up costing you more, because once a single color runs out, you have to replace all three. Inkjets that offer separate cartridges for each ink put an end to that problem; models that separate the ink tank from the print head can save you even more money.
One of the most inexpensive consumer inkjets to run is the $100 Canon Pixma iP4700. It has a separate print head and five ink tanks, a full set of which ships with the printer. The pigment black (PGI-221) costs 4.3 cents per page, while each color costs 2.6 to 2.8 cents per page. A four-color page would cost about 12.2 cents. Photo black, used only with images, lasts for 665 4-by-6-inch photos (about 2 cents per photo). On Canon's own paper, photos were accurate and sharp. Plain paper presented more challenges: Flesh tones appeared excessively pink, for instance, and text was black but slightly fuzzy.
This model comes with an automatic duplexer, which can help you conserve paper, as well.
The most economical inkjets we've tested are business- oriented models. They carry higher price tags but offer high-yield cartridge options, with a lower cost per page compared to standard-size cartridges. As with anything you buy in bulk, make sure that you can use such cartridges in a reasonable period of time. If you print just a few simple pages per day, buying a cartridge that lasts for 1000 pages would be overkill.
The $180 HP Officejet Pro 8000 Wireless Printer, for example, comes with one standard input tray and one optional one, plus automatic duplexing and Wi-Fi support. It uses two print heads and separate ink tanks that load easily into a front bay. Among the standard-size supplies, black costs about 2.6 cents per page, and each color about 2.2 cents. A typical four-color page would cost about 9.3 cents. The high-yield cartridges are an even better deal: Black costs about 1.6 cents per page, and each color about 1.9 cents per page. That pegs a normal four-color page at just 7.2 cents. Overall, the Officejet Pro 8000 Wireless produced very good print quality. Text was crisp and suffered virtually no defects, while grayscale graphics showed a level of detail in darker areas that many printers miss. Color images had a rich (albeit somewhat dark) cast that we often see in output from HP printers. Flesh tones tended to be orangey.
Last and least (in ink costs) is the recently introduced Ep­­son B-510DN. This $599 inkjet printer's consumables are cheaper than those of many lasers we've tested. Its standard-size supplies cost 1.3 cents per page for black and 1.4 cents for each color. A full-color page would cost just 5.6 cents. The high-yield colors each cost 0.9 cent per page. Epson offers high-yield and extra-high-yield black inks, priced at 1.2 cents and 0.87 cent, respectively. Built for maximum efficiency, it offers two input trays and automatic duplexing, plus record-breaking speed rivaling that of some lower-end color lasers. Its print quality is very good, too, just fuzzier on plain paper—which is acceptable for text, worse for photos.
Next: Inkjet MFPs, Snapshot Printers, and Color Laser/LED Printers
Inkjet MFPs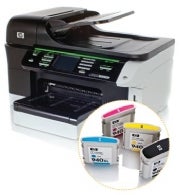 There's no real difference in cost per page between inkjet multifunction printers (MFPs) and their single-function cousins, but there are more competitors among MFPs. The integrated scanners on these models can save you more ink by converting documents into PDFs or other electronic formats, which you can then distribute electronically instead of printing.
The $200 Kodak ESP 7250 is one of many models that use Kodak's notably cheap inks. The tricolor cartridge costs only 4.28 cents per page, and the black cartridge costs just 2.35 cents per page. A page with all four colors would cost about 6.6 cents. Kodak also sells a high-yield black, but this cartridge offers only a slightly lower cost per page: 2.2 cents. Ink savings aside, however, Kodak's multifunction products tend to be average, with plodding speed, fuzzy output quality on plain paper, and mediocre scanners.
Another cheap standout is the Hewlett-Packard Officejet Pro 8500 Wireless All-in-One Printer. This $400 business-oriented model comes with everything you need—Wi-Fi support, a touchscreen, automatic duplexing, and an automatic document feeder—plus lots of paper capacity. Its standard-size inks cost 2.6 cents per page for black, and 2.2 cents per color per page (9.3 cents for a four-color page). The economic picture gets even brighter with the high-yield cartridges: 1.6 cents per page for black, 1.9 cents per color per page; a page containing all four colors would cost a mere 7.2 cents. Text output looked black and fairly crisp. Photos and graphics appeared grainy but had natural colors on plain paper. On HP's own paper, the images tended to be slightly dark but very smooth.
Canon's Pixma MX870 is a recent favorite whose inexpensive inks are just one of its fine attributes, which also include Wi-Fi support, automatic duplexing, and two 150-sheet input trays. The Pixma MX870 has a separate print head and five ink tanks. The pigment black (PGI-220) costs $15 and lasts for 524 pages, or 4.62 cents per page. The cyan, magenta, and yellow CLI-221 cartridges cost $13 each and should last for 510 to 535 pages each, which works out to about 2.5 cents per color per page; a page with all four colors would cost about 12.4 cents. The CLI-221 photo black will last for about 814 standard 4-by-6-inch photos, by Canon's reckoning. Color prints on both plain and photo paper had rich, smooth colors, while text pages looked black and sharp. It's also worth noting that a slightly older consumer model from Canon, the $150 Pixma MP560, operates with similarly low costs.
A final note on this category: Two Lexmark MFPs—the $300 Pinnacle Pro901 and the $400 Platinum Pro905—can use Lexmark's 105XL high-yield black cartridge, which costs just $5 and lasts for 510 pages, or a scant penny per page. But the 100XL high-yield black, which also fits these models, is extremely expensive—as are the standard-size 100 cartridges. So be careful what you buy.
Snapshot Printers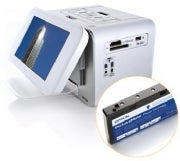 Designed simply to print photos at one or more sizes, snapshot printers appeal to convenience, rather than to economy. No longer must you upload images to an online site and wait for them to come back in the mail, or schlep your media card to a local store for one-hour printing—though both of those options cost less per print. Just put your media card into one of the slots, select a few layout or editing options, and out comes a finished print. Most snapshot units print just 4-by-6-inch shots, but Hewlett-Packard sells some models that can print on 5-by-7-inch and 4-by-12-inch paper as well.
Among the snapshot printers we've reviewed, Epson's inkjet-based models have the lowest cost per print. Its $150 PictureMate Charm PM 225 and its $300 PictureMate Show PM 300 both ship with a starter ink cartridge that prints up to 20 images. A replacement pack containing a 150-print cartridge and 150 sheets of paper costs $38, which works out to about 25 cents per print—very economical compared with rival units. Both Epsons also produce quite nice-looking prints.
Color Laser/LED Printers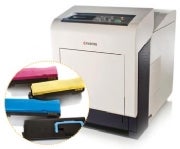 If you think laser printers are always cheaper than inkjets, think again. Our familiar rule of thumb applies here: The less expensive the printer, the more expensive the consumables. The most economical color laser or LED printers are those designed for high-volume use, which accommodate consumables that may last for tens of thousands of pages.
Kyocera Mita's FS-C5300DN is very fast, and its operating costs are by far the lowest among color laser models we've tested, but it carries a steep list price of $1739. The photoconducting drums (one for each color) and toner supplies are separated to minimize waste. The drums last 200,000 pages apiece, so you'll take a while to exhaust them. The starter-size toner supplies last an impressive 6000 pages for black and 5000 pages for each color. A full-size, 12,000-page replacement supply of black ink costs 0.9 cents per page, while each 10,000-page color toner supply costs 1.5 cents per page. Color image quality was adequate but unsophisticated. Solid blocks of color, as in pie charts, looked fine, but color photos tended to appear grainy or fuzzy, with a yellowish cast. Grayscale images struggled with subtle gradations and looked too dark overall.
Following close behind the FS-C5300DN is the $799 Oki C610dtn, an LED model. The printer's output speed is impressive, but you might need to tone down the color palette, which produced ruddy flesh tones and dark or lurid colors. We also noticed grainy or fuzzy qualities in solid-color areas. Its consumables are very economical, though: Separate drums are built to last 20,000 pages each. A full set comes with the printer; replacing them costs about $71 to $77 apiece (per Oki's estimates—the company does not sell them directly), adding about a third of a cent per color per page to your costs. The starter-size cyan, ma­­genta, yellow, and black toner supplies have a mere 2000-page yield, but the replacements are economical: Black toner costs about 1.1 cents per page; and each color, about 2.6 cents per page. A four-color page would cost just 9 cents—a bargain.
The $1549 Dell 5130cdn Color Laser Printer costs a wee bit more per page than the Oki, but it compensates with far better speed and print quality. It also ships with standard-size supplies (versus the Oki's paltry starter sizes): a 9000-page black cartridge ($107 to replace) and 6000-page cyan, magenta, and yellow cartridges ($195 each to replace). That's about 1.2 cents per black page and 3.3 cents per color—or 10.9 cents for a four-color page. High-yield supplies offer greater savings: The 18,000-page black cartridge ($137) costs less than 1 cent per page, and the 12,000-page color cartridges ($245 each) cost about 2 cents per color, adding up to a superlow 6.9 cents for a four-color page.
Pay Now or Pay Later
By now you've figured out the pattern in printer economy: The more you pay for the printer up front, the less you'll pay per page for ink or toner later on. Unfortunately this means that home and student users, who generally have smaller budgets, are signing on for higher per-page expenses in the long term, assum­ing they stick with brand-name cartridges.
Next: Ink and Toner Costs
Ink and Toner Costs: Do the Math and Don't Get Reamed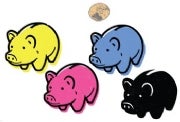 Before you buy a printer, it makes sense to look not only at its price tag and reviews, but also at its cost of operation. For many printers-especially inkjet models-the price of replacement ink or toner can quickly outstrip the machine's initial cost. Here's how to find out what you're in for before you buy.
A little shopping: We get the current price of each cartridge from the vendor's own Web site. If the vendor doesn't sell the cartridges directly, we average the prices collected from three or more major online retailers. The price differences can be surprising, so it pays to shop around.
A little research: All printer vendors publish yield data for their ink or toner cartridges-how many pages a cartridge can print before it runs dry. Most vendors' yields are based on industry-standard measuring tools developed by the ISO (International Organization for Standardization), using a particular suite of documents printed at specific settings, so that the results are comparable among different models. Finding the yields can sometimes be difficult, but don't hesitate to bug the vendor for guidance if you can't find the data easily.
A little math: For each color, we divide the cartridge's price by its page yield to get the cost per color per page. If a vendor offers high-yield cartridges as well as standard-size ones for a particular printer, we gather the prices for both kinds of cartridges. The resulting costs per color per page will give you an idea of how much the printer is going to cost you in ink or toner.
Based on current prices, the cheaper inket printers and MFPs should have a cost per color per page of 5 cents or lower; walk away if it's more than 6 cents. For a color laser, the ideal cost per color per page should be 3 cents or lower; above 5 cents is pricey. For a snapshot printer, 25 cents per print is the best price currently. Your mileage will depend on what and how much you print day-to-day. Highly color-saturated pages-especially photographs-will cost more than these representative prices can illustrate.
A few tricks to watch out for: Vendors sometimes charge more for black (because it's used more), or they may lowball black to distract you from higher costs for other colors. Check for "starter-size" cartridges, too: Printers may ship with these lower-capacity supplies rather than full-size ones. It's not un­­usual for lower-end laser or LED printers to come with starters; and some snapshot printers give just a few shots' worth of ink, forcing you to buy a full set right away. It's getting harder to avoid starters, but at least you should be aware of them.
Next: Portrait of a Serial Refiller
Portrait of a Serial Refiller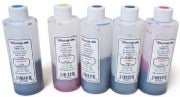 They work in the privacy of a garage or bathroom. Their tools are simple but effective. Serial refillers buy their own ink and pump it into the same cartridge, over and over again. They wouldn't dream of buying brand-name ink cartridges, or even third-party refilled or remanufactured ones. They know that the cheapest way is to do it themselves. I met a serial refiller; this is his story. (Note: He requested anonymity.)
My serial refiller could be anyone's next-door neighbor: A mild-mannered fellow, living in a neatly landscaped house in a peaceful suburb. He has been refilling not one, but two printers: an HP DeskJet 880Cxi that he purchased in 1998, and a Canon Pixma iP4000 that he bought seven or so years ago. He told me exactly how he became a serial refiller.
First he searched online for bulk ink and refill kits for his specific printer models. Once he got the kits, he just reordered as needed. For his Canon printer, for instance, he can buy a one-pint bottle of ink for about $25. Since the typical ink cartridge costs anywhere from $10 to $25 but holds an amount of ink measured in milliliters, that bottle represents a huge savings.
The kit for the HP included a small hex wrench and screw. The hex screw replaces the ball bearing that originally sealed the fill hole in the cartridge. My refiller removed the ball bearing by forcing it into the cartridge, using the tip of a ballpoint pen. He then finagled the filled syringe into the hole and added more ink. He refilled the same cartridge for many years using this method, until the print head finally gave out. Unfazed, he bought another cartridge and started over.
To refill the Canon unit, he had to drill a small hole into the top of each of its five tanks so he could fill them via syringe; then he sealed each hole with a screw. The kit provided a small, manual drill, but he said it was easier to use his electric drill. Occasionally, he switched to a slightly larger screw, as a tank's ac­­cess hole expanded with reuse. He covered the tank's ink spout with electrical tape during a refill to prevent ink from leaking. He removed the tape carefully afterward and kept tissue ready to dab away any ink.
What about print quality? Vendors warn that it will suffer if users stray from brand-name inks. My serial refiller did not care, saying that what he got sufficed for the letters, invoices, and labels he printed. He also used draft mode most of the time to save even more ink. He took his digital photos to a local Walgreens store, paying a dime or so per print, versus 25 cents or more using an inkjet printer.
Could you become a serial refiller? How badly do you want to save money on ink?
Refilling may not be pretty; but it is very, very cheap.
More Tips
For more money-saving printer tips, see "The Cheapskate's Guide to Printing"; and for more about inks, check out "Cheap Ink: Will It Cost You?" and "How Much Ink Is Left in That Dead Cartridge?". Also, don't miss our ranked charts of inkjet multifunction printers, inkjet printers, color lasers, and snapshot printers.