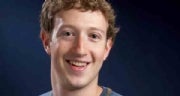 Maybe it's the recent lawsuit that casts doubt on its ownership, the persistent harping on its privacy controls, or a soon to be released unflattering movieThe Social Network, but Facebook seems to be working at creating a warm and fuzzy public image of itself.
After hitting the 500 million member mark, for instance, it announced Facebook Stories, a vehicle for collecting heartwarming tales about how the social networking service enriches its members lives. What's more, the offering was introduced through a video blog by the reclusive leader of Facebook itself, Mark Zuckerberg.

Indeed, Zuckerberg, too, has made efforts to shed some of his aloofness. Not known for being pals with the press, Zuckerberg was handing out interviews this week like G.I.'s handing out candy. There was an interview with ABC's Diane Sawyer as well as a gab session at the Computer History Museum in Mountain View, Calif. with David Kirkpatrick, author of The Facebook Effect and NPR's Guy Raz. The Zuckerberg at the Computer Museum appeared to be different from the public Zuckerberg of the past. "Zuckerberg, in conversation with Kirkpatrick and NPR's Guy Raz, was self-deprecating and introspective about Facebook's progress and his role as a leader at the company," Liz Gannes wrote for GigaOM. "It was a far cry from the sweaty mess he was at the D Conference last month."

The campaign to polish its image will reach some kind of high point this fall when Zuckerberg's voice will make a guest appearance on "The Simpsons." In the episode, Zuckerberg, playing himself, reminds the Simpson kids that the gateway to success for many entrepreneurs has been dropping out of school. The show is expected to be aired just about the time that the movie about Facebook, "The Social Network," which portrays Zuckerberg in a less than flattering light, is expected to be arriving in theaters.