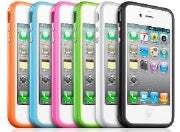 Apple has begun refunding customers automatically for their purchases of iPhone 4 bumper cases, according to e-mails from the company received by users. Apple said last Friday that it will give away free Bumper cases to all future iPhone 4 purchases, as well as refunding those who bought the cases by now.
Users have been receiving e-mails from Apple saying they have been automatically refunded the price of the bumper case they purchased with their iPhone 4. The move comes in response to the iPhone 4 antenna attenuation problems, which took the company by storm over the past few weeks.
The bumper cases alleviate the iPhone 4 "death grip," which occurs when you touch the phone's antenna black tip on the left side of the metal bezel. An Apple Bumper case cost $29, but it is estimated that a case actually cost Apple around $1 to manufacture.
Apple estimates that giving away free bumper cases until September 30 with new purchases of the iPhone 4, as well as retroactively refunding purchases since June 24, would cost the company around $175 million. Apple sold more than three million iPhone 4s so far.
It's unclear at this point whether Apple is refunding individual bumper cases purchases, or just those who bought one together with an iPhone 4. The company is yet to provide a method for in-store purchases to get refunded. At last week's press conference Steve Jobs said that Apple would reimburse iPhone 4 owners who purchased or plan to purchase either Apple bumpers or third-party bumpers Apple had approved as part of the free bumper program.
The bumper case giveaway is a much cheaper alternative for Apple, rather than recalling the iPhone 4, as it was speculated before last week's press event, which would have cost the company upward of $1.5 billion.
Apple reported on Tuesday its most successful financial quarter so far, with $15.7 billion in revenue. Apple also said it has now sold more than 100 million iOS devices including iPhone, iPod Touch, and the iPad, since the original iPhone launched in 2007.
Follow Daniel ( @danielionescu ) and PCWorld ( @pcworld ) on Twitter.