There's nothing like a juicy Apple conspiracy theory, and the latest one about the white iPhone 4 is too good to lay off: Is Apple delaying the white iPhone 4 to find a fix for reception issues?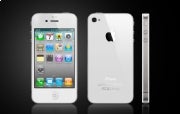 I can't take credit for that theory; Jay Yarow at Business Insider had the idea first, noting that Apple is only offering free iPhone 4 bumper cases until September 30, and that the white iPhone 4 is delayed until "later this year."
Coincidence? Probably, but Yarow theorizes that Apple could come up with a fix for the iPhone 4's antenna problem and save itself the cost of free bumper cases when the white iPhone 4 finally arrives.
Existing iPhones can lose signal when a finger is held over the phone's lower left-hand corner, bridging the gap in the phone's external antenna. The problem is mostly noticeable in areas of poor reception, and is alleviated with bumper cases that Apple is now providing for free. Apple has estimated that the bumper case giveaway will cost $175 million.
I think whatever additional losses Apple would endure from free white iPhone cases would be a drop in the bucket, and there's no guarantee Apple will come up with an antenna fix anyway. But there's a bigger flaw in the white iPhone antenna theory: Apple is already selling more iPhones than it can supply. Even if the iPhone 4 was available in white, Apple wouldn't be able to supply more phones in total, so there would be no need to give away additional cases.
The only way Apple can save on free case giveaways is by intentionally selling fewer iPhones in all colors — another wacky conspiracy that you're welcome to consider. My feeling is that the profit Apple gains from each iPhone 4 sale far outweighs the cost of a bumper case, and it's not worth making people wait longer than they already are.