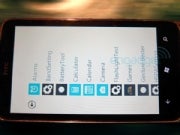 Photos of a near-final version of an alleged HTC Windows Phone 7 device have leaked online. The photos show a handset with a 3.7-inch Super LCD screen, with a purported 1 GHz Snapdragon processor, 8-megapixel camera, and three touch-sensitive buttons at the bottom of the device. HTC is rumored to be in talks with Verizon and possibly Sprint about the unnamed device, according to Engadget.
While the specs of the supposed HTC Windows Phone 7 device are only speculation, they do line up with minimum hardware requirements Microsoft is dictating to its manufacturing partners. The company requires that all Windows Phone 7 devices include Home, Search, and Back hardware buttons; a capacitive multitouch screen; a minimum 5-megapixel camera; and 1 GHz Snapdragon or similar processor. Microsoft is also requiring Windows Phone 7 handsets to ship with Wi-Fi, GPS, accelerometer, and a minimum of 256MB RAM and 4GB of flash memory storage. Windows Phone 7 devices must also ship with Microsoft's interface, and manufacturer device overlays, such as HTC's Sense UI, are forbidden.
Microsoft's hardware requirements will help Windows Phone 7 avoid Android's overly fragmented market where virtually any device maker can slap Google's smartphone OS onto any device it wants. Fragmentation can deter third-party application developers since they have to take into account multiple device form factors when designing an app. Microsoft's approach is similar to Apple's approach to iPhone hardware where certain features have remained consistent, at least so far, throughout different iterations of the iPhone including screen size and physical button layout.
Windows Phone 7: Hot or Not
Speculation and criticism surrounding Windows Phone 7 continues to grow after Microsoft released developer previews of its new handset OS in mid-July. Some critics have completely panned the device calling it a "waste of time and money," while others such as Windows blogger Paul Thurrott call Microsoft's new smartphone platform "more innovative" than anything currently offered by Apple or Google.
Opinions on Microsoft's new smartphone OS may vary, but considering the buzz around Windows Phone 7, it could be Microsoft's most anticipated product launch in 2010. But whether smartphone shoppers this holiday season will pick a Windows Phone 7 device over a strong roster of iPhones, Android devices, and the forthcoming Blackberry 6 OS is anybody's guess.
Connect with Ian on Twitter (@ianpaul).