If there's a bigger computing hassle than sharing photos from your camera, I haven't found it.
It's not that the process is difficult, per se, it's just not as fast and intuitive as it should be. And for computing novices, it can be a nightmare.
Indeed, the simple act of e-mailing of a photo that's "trapped" inside your camera requires a number of steps. For starters, you need to access the photo, which means either connecting the camera to your PC or removing its memory card and sliding it into the matching card slot.
From there, any number of things might happen. Windows may pop up an AutoPlay window offering various options: import pictures and videos using Windows, import pictures using Picasa, Open device to view files, and so on. Hey, Microsoft: Where's the e-mail photos option?
Alas, there isn't one. My preferred choice at this point is Open device to view files, which lets you access the contents of your memory card much like you access your hard drive.
Okay, but where are the photos? You're probably seeing only a folder called DCIM, which is shorthand for "this is where all cameras store photos." Open that folder and you may find your snapshots, or you may find one or more subfolders. Oh, and then you have to figure out which photo you want, which is no mean feat thanks to cryptic filenames like IMG_3781.jpg.
Once you do pinpoint the photo you want to e-mail, you can drag it to a new-message window in your mail program (Outlook, Outlook Express, Windows Live Mail, etc.). Some Webmail services support this drag-and-drop option as well, including Gmail and Yahoo.
Alternately, you can right-click any photo, then click Send to, Mail recipient. That'll open your default mail program, create a new message, and automatically attach the photo. (It'll also produce a lot of annoying boilerplate text in the subject line and body, all of which you're free to delete, replace, augment, etc.)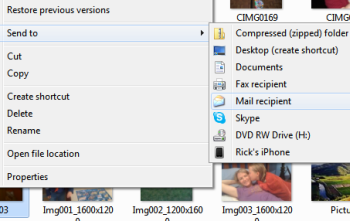 See what I mean? There are way too many steps required for something this basic. Things get a little easier if you automatically import all your snapshots into an image-management program like Picasa or Adobe Photoshop Elements, but even then I think it's unnecessarily complicated.
That's one reason I'll often reach for my phone instead of my camera. Even though the former takes lesser pictures, it greatly simplifies the process of e-mailing them–and, for that matter, uploading them to Facebook, Flickr, etc.
Do you know of a faster and/or easier way to e-mail photos from your camera? Share your wisdom in the comments.