Could this be a return to the days of Mr. Jeeves? Ask.com announced in a blog post this week that it is going back to its roots as a question-and-answer focused search service. The "new" Ask.com was launched in an invite-only private beta on Monday that takes advantage of the "explosion of the social Web," the company says.
Ask.com says the new site "combines our proprietary answers technology (specifically tailored to extract questions and answers from the Web) with the human insight of the thriving Ask.com community drawn from our 87 million monthly [users]." And while the company is calling this move "the future of Ask.com," it's also something of a look into the past. Ask.com was launched in the late 1990s as Ask Jeeves, a search site that was designed to offer answers to natural-language queries. It was designed so that users could pose questions in plain English; those questions were then fed through a database of question templates that had been matched with Web pages by a team of human editors.
The site, complete with its mascot — Jeeves, the butler — was designed to be your own personal Internet valet. But many users were left unsatisfied with its results, and the site struggled mightily in the early 2000s, and eventually dumped Jeeves as a mascot and rebranded itself as plain-old Ask.com.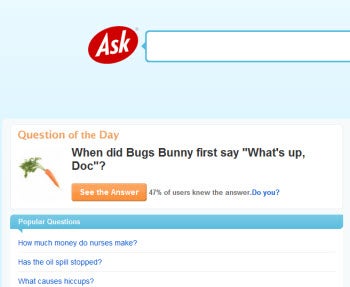 The move back to a question-and-answer format comes as social search has grown in popularity. Bing.com, Google, and Yahoo all offer some form of social search, whether it be incorporating Twitter and Facebook posts into search results, or, in the case of Google, incorporating "relevant pages from…friends and contacts" into search results. (Click on image to enlarge)
Ask.com says it has spent the last year enhancing its Q&A search offering so that it can "locate the most relevant, high-quality answer" to your question. And though Ask boasts that you'll be able to find that answer without "surfing through 10 blue links," the company is going to face a serious uphill battle convincing the Web population at large that it can answer your questions better than Google. Ask.com trails well behind Google, Yahoo, and Bing in the search market, according to comScore's latest search engine rankings. Ask.com had a 3.6 percent share of the market in June, a percentage that is dwarfed by Google's 62.6 percent, and one that is well behind Yahoo's 18.9 percent and Microsoft's 12.7 percent.
I haven't yet tried Ask.com's new service, as I'm still waiting on my invite to access the private beta. (You can request an invite here.) But even if the results it provides are stellar, I'm not convinced that Ask is going to woo Web users its way. After all, we're smarter Web searchers than we were 10 years ago: we know we can enter a question into Google's search box if we really want to. And we know Google can deliver authoritative results — not just an answer from another Web user that may or may not be true. In this respect, it feels like Ask.com is late to the party, even though this party may have been Ask's idea first. Mr. Jeeves may be better off looking for work elsewhere.