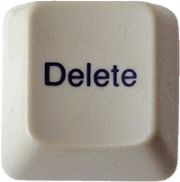 Facebook is quietly testing a "delete account" option on a small percentage of users, according to a Slashdot post (and The Next Web confirms).
This is a big step for the social networking giant, which has previously made it all but impossible to delete your account. According to the Slashdot report, the "delete account" option "purports to permanently delete your account and all the information you have shared."
At the moment (save for the lucky few recipients of this test), deleting your Facebook account is a long and tedious process, and takes at least 14 days. To delete your account, you must go to the deactivation page. On the deactivation page, there are photos of your friends with little captions like, "Lisa will miss you," and the option to send Lisa a message. You are then required to inform Facebook as to why you are leaving, as well as opt out of future email notifications (if you don't do this, Facebook will continue to spam you with notifications when your friends invite you to events or tag you in photos). (Click image to enlarge)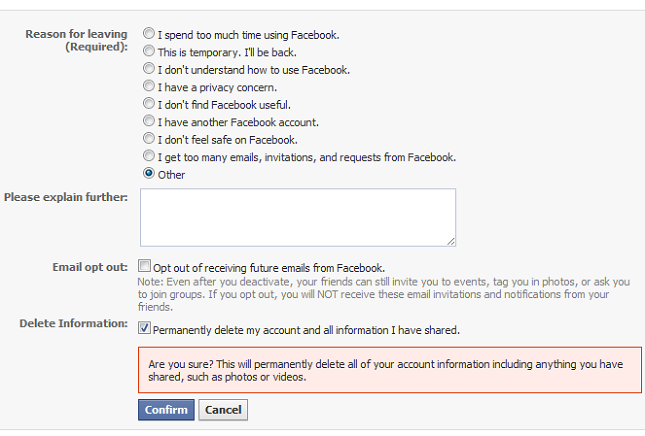 If you make it past the deactivation page, you then have to wait two weeks while Facebook sends you messages about who has tried to contact you in your time of absence. If you can hold out for two weeks without logging into Facebook, you're free! If you can't, well, you're back in the loop.
This new "delete account" option will supposedly bypass the two-week trial period, and allow Facebook users to delete their accounts immediately. Users will also be able to "permanently delete" their account information, photos, videos, and anything they have shared. (This implies that, prior to the advent of this option, account deactivations/deletions did not permanently erase photos and videos.)
Though I will probably not use the "delete account" option (I love to hate Facebook, let's be serious), Facebook's offering to permanently delete information will go a long way in helping to assuage user's concerns about privacy.