Keeping mobile phones and other portable electronics charged is a hassle if you make frequent business trips or work in multiple locations. Inevitably, your smartphone's battery dies far from a power source just when you need to make a crucial call or get directions to a meeting.
A portable charger that harnesses and stores solar, wind, or motion power could keep you in touch. Devices that power cell phones, GPS devices, digital cameras, MP3 players, e-book readers, and other electronics have come to market in recent years as "green" consumer products, but their usefulness for work has rarely been addressed.
To gauge their usefulness, we put several off-grid chargers through a series of informal, hands-on tests.
Miniwiz Hymini Wind Charger
The $49 Hymini from Miniwiz uses a tiny turbine to charge "most 5V handheld devices." It's likely to arouse the curiosity of clients and coworkers if you use it around them.
The Hymini fits in the palm of your hand or on a windowsill, but its comma shape is impractical. When we laid the device flat, its tiny turbine struggled to pick up enough wind to spin, and there's no stand to prop the unit up with. When we used a strip of Velcro tape to attach the lightweight Hymini to an outdoor wall, however, its fan spun easily.
To get started, you'll need to fill up the Hymini's 1200-milliampere-hour lithium-ion polymer battery; the accompanying directions recommend doing this the first time via an AC wall outlet. In our tests, the initial charging took about 4 hours. Once you leave the office, you can replenish the charge in winds of 9 to 40 miles per hour–but since there's no wind speed indicator, determining whether the wind is suitable for recharghing is a matter of guesswork.
As long as the battery indicator light glows green, the Hymni battery is full of power. Unfortunately, there's no way to tell how much power remains, or how quickly the unit is draining. Once the light dies, charging the Hymini by wind power alone is not recommended, and in practice it tends to fall over too easily to be useful. We took it out on a sailboat in 20-knot winds and couldn't keep it upright long enough to charge anything.
If wind charging doesn't do the trick, you can connect a companion, stand-alone solar panel to feed the Hymini's battery. But it's inconvenient to have to charge a portable power supply to charge another power supply to charge your devices. Plugging your mobile phone into a wall or a PC is far simpler.
While the Hymini is receiving a charge, a red light on the side lights up. You must remember to slide a switch to the battery icon during charging, and to slide the switch to off when you aren't using the Hymini. Sliding the switch to the lightbulb icon turns on a two-light LED flashlight atop the device.
Unlike other off-grid chargers, the Hymini comes with a handful of adapter tips labeled for LG, Sony Ericsson, Samsung, and Motorola phones. Also included are a retractable USB cable and adapter for powering the Hymini from a computer. The USB cables that came with RIM BlackBerrry, iPod Touch, Amazon Kindle, and HTC Droid Incredible worked as well.
It took about an hour to charge a dead BlackBerry Bold from the wall-charged Hymini. After that, however, attaching a drained HTC Droid Incredible to the Hymini for an hour didn't provide enough power to permit a single phone call. Even after the Hymini spun outdoors for 5 more hours, it had too little juice when connected to a Kindle or to an iPod Touch to cause their charging indicators to register a connection.
In the end, the Hymini worked great when it was charged from the wall, but provided anemic results when serving its actual purpose of providing stored wind energy to electronics. If the Hymini isn't practical as a reliable, off-grid power source, at least it would make a cool toy to demonstrate the possibilities of renewable energy for children.
Brunton Freedom Portable Power Device
The waterproof, 5.7-ounce, gray-and-orange Brunton Freedom solar charger feels simple and rugged, a good option for people who do "dirty" work outdoors. You could safely leave the $69, rubberized device face-up on a slippery table, on the dashboard of your car, or in the rain. It can attach to and hang from a hook, but there's no built-in stand to position the Brunton Freedom at an optimal angle to catch the sun's rays.
The Freedom is built to charge 5-volt electronic devices, including smartphones, GPS devices, MP3 players, and cameras. But with only the USB cable provided–and no options for adapters on the Brunton Website–its range of applicability is limited. (On the other hand, adapters and a USB transfer cable provided in the Hymini wind charger package seemed to work with the Brunton device as well.) At least the Freedom, unlike competitive products, came with a 12-volt USB adapter to plug in to a car's cigarette lighter.
Though you have to turn on the Freedom before you can use it as a charger, you don't have to mess with any switches or modes. One button controls a small, built-in flashlight, and another button switches on the power and lets you check the status of the 2200mAh lithium-ion polymer battery. When you press a button along the left edge, four LEDs indicate a full battery. The LEDs fade one by one as the power drains, so you can tell when it's time to do a solar refill. A lightning-bolt icon flashes green while the Brunton Freedom powers up. A gray cable connects a mini-USB and a USB port on either side of the device and nestles into its body, so it's hard to lose.
Like the Hymini, the Freedom comes with directions that recommend charging first from a wall or PC USB outlet rather than starting from scratch with the sun. After being plugged into a wall outlet for close to 3 hours and becoming fully powered, the Freedom took an hour to charge a BlackBerry Bold, after which it showed its battery drained to zero LEDs. The device automatically shut off whenever it ran out of power or finished charging.
On an overcast San Francisco day, the Freedom took about an hour outdoors to bring each blue LED to life–roughly 4 hours to fill a near-empty battery. When it was fully solar-charged, it took roughly an hour each to charge an HTC Droid Incredible and an iPod Touch. When the Freedom displayed just one or two LED indicators, however, none of the connected devices appeared to receive energy from it.
This sturdy device is relatively simple to use out of the box without heavy effort, and its helpful power indicator levels make it more practical and painless to use than other chargers. Furthermore, collecting solar energy seemed less of a struggle for the Freedom than gathering wind energy was for the Hymini. Unfortunately, the Freedom isn't alone in seeming to need a full charge in order to give a lift to other devices.
Kodak KS-100 Solar Charger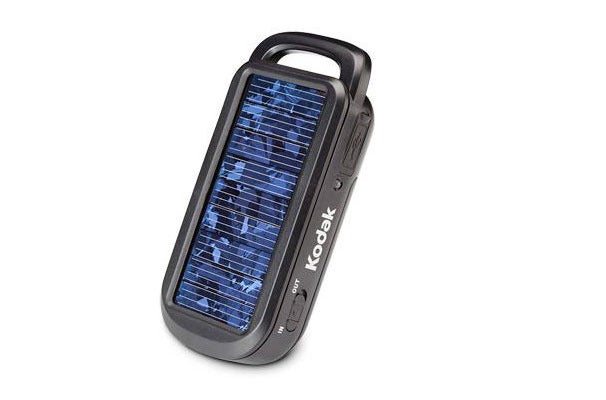 The $30 Kodak KS-100 solar charger is the most straightforward, easiest to carry, and least expensive recharging device we tested. It's also the smallest, fitting into a jacket pocket, small camera bag, or purse.
You can prop up the Kodak charger on a fold-out stand to get the most of the light at an angle, or you can hang it from a hook. It comes with a USB-to-mini-USB connector, but Kodak doesn't provide any extra adapter cables. The unit's enclosed AA nickel metal-hydride batteries could theoretically pop into a compatible camera or other gadget, but you can't swap different batteries into the Kodak unit. Also missing from the Kodak package is an AC wall adapter, but you can give the Kodak model a head start by powering it via USB from a port on your computer.
You must set the device either to accept power or to provide power, by flipping a switch to In or Out–an extra step compared with the Brunton Freedom. Reaching the Kodak's embedded switch was impossible without a pen, a pin, or a twig. The Kodak LED shines red while charging and green when ready to go. You have to switch its power status from In to Out before plugging in a phone or other gadget for charging.
The KS-100 comes with no adapters, just a USB-to-miniUSB cable. The USB chargers that accompanied our test BlackBerry Bold, iPod Touch, and HTC Droid Incredible plugged into the Kodak unit, though the only phone that the KS-100 fully charged was the BlackBerry–and even then only after we left the charger outside for a couple of days. Overall, the Kodak charger seemed slower to accept a solar charge than the Freedom was. Most of the time, the KS-100 seemed to offer a just trickle of power. The company says that charging a device from the KS-100 should take no longer than charging it via USB from a computer.
It might be wise to stash the Kodak charger in a sunny location so that it will be fully loaded when the need arises. Though it doesn't seem powerful enough for frequent usage, if left to marinate in the sun long enough to charge fully, the Kodak KS-100 could provide the energy boost you need for a handheld device.
nPower PEG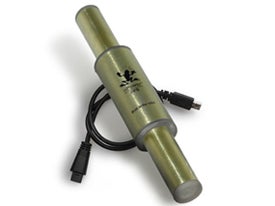 The $149 nPower PEG stands apart from other devices reviewed here as the first portable kinetic energy charger. The NPower PEG if sold online in five flavors: Apple, BlackBerry, HTC, LG, and Motorola, with additional adapters priced at between $7.50 and $15 each.
Its maker, Ohio-based Tremont Electric, sent PCWorld a prototype unit for testing. In that form, the nPower PEG resembles a squat, green baton, with only one button and a mini-USB port.
Notwithstanding its small size, the nPower PEG feels about as heavy as a full bottle of water–a deterrent if you want to travel light. It's too clumsy take along on a jog, unless you need an arm-toning weight. Also, it's best to store the nPower PEG upright, which can be tricky if the device is floating around in a bag, though a narrow pocket can work. Unlike the Hymini, the nPowerPEG advertises no optional mounting accesssories. A Velcro tape workaround isn't a great idea, since the necessary shaking loosens the tape.
The nPower PEG works on the Faraday principle, with a magnet within the device moving inside a coil. Our mini-USB cable tip stuck to the magnetic nPowerPEG, which should probably be quarantined from laptop screens, although the company says credit cards are safe.
The company sent us the prototype nPower PEG fully charged, and all five LEDs lit up when we pressed the single button. Connecting a BlackBerry Bold appeared to deliver a charge for several minutes. It's supposed to hold a charge for a year. But a couple of weeks later, none of the prototype nPower PEG's LEDs showed any sign of life. Shaking the sample unit vigorously by hand for 30 minutes made no difference, nor did walking around with it upright in a large purse for 40 minutes, including up and down several flights of stairs. When we pressed the nonresponsive button more firmly, one-third of the button broke off–and still no lights.
Hopefully, the final model of the nPower PEG that ships to customers will work. Something like this could be very useful in a pinch, especiallly as piezoelectric technology improves and can lead to smaller, lighter motion-generated charging.
Worthwhile for Work?
Owning a solar or wind charger won't solve the annoyance of having to pack a motley assortment of cables and adapters; in fact, it could add to the headaches–if you were to lose one of the minuscule cell phone adapter tips, for instance.
For professionals who don't want to bother with powering up a power supply, some off-grid chargers aren't worth the trouble. A laptop, a USB cable, and any necessary adapters can satisfactorily replenish handheld gadgets, as long as they're within reach. Hand-crank power packs that slip into a glove box or laptop bag are commonly sold at hardware stores and can give cell phones a short-term boost.
On the other hand, solar and wind chargers offer the added benefit of a longer life span, the freedom of tapping into power outdoors, and the option to connect to a wider variety of devices.
If you want to look green, busting out a tiny renewable-energy device may impress certain clients. But specific professions and work styles seem a better match for off-grid chargers than do most cubicle-dwelling jobs. An environmental engineer testing soil quality, for example, might like the Brunton Freedom as an emergency energy supply for a GPS device, camera, or smartphone. Even a globetrotting business traveler might find a solar charger useful when international wall adapters are unavailable.
More companies are trying to bring a wide range of portable solar, wind, fuel-cell, hand-crank, and even yo-yo-like charging devices to market. In the years to come, more electronics will likely integrate solar and other renewable forms of energy into their designs. Apple, for instance, could be plotting a solar-powered iPhone. When solar, wind, or motion power are baked into gadgets and accessories, the charging experience should become more seamless and convenient than it is with the available stand-alone chargers.