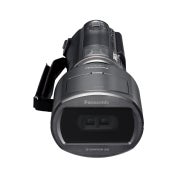 Panasonic unveiled a slew of new Lumix cameras just last week, but the company wasn't quite done with its fall camera and camcorder announcements.
Today, Panasonic announced its first 3D high-definition camcorder for consumers (the company showcased a pro-level 3D camcorder earlier this year) and teased a prototype Micro Four-Thirds system lens that will add 3D imaging capabilities to its Lumix G interchangeable-lens cameras.
Panasonic's latest offerings also include the company's first pocket camcorder and an ultracompact HD camcorder, both of which shoot in plain old 2D.
Panasonic HDC-SDT750: A 3D Camcorder for Consumers
Although the three-CMOS Panasonic HDC-SDT750 HD camcorder uses a dual-lens setup to capture 3D video footage, you're not locked in to the third dimension. The 3D conversion lens included with the camera is detachable, and the dual-lens 3D attachment mounts onto the HDC-SDT750's F1.5, 12x optical zoom Leica lens.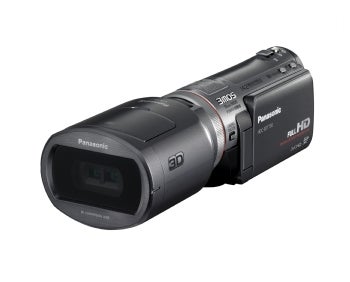 With the 3D conversion lens attached, the HDC-SDT750 shoots 960-by-1080 video with each of the two lenses, recording separate footage for the left-eye and right-eye channels. Viewed on a compatible 3D HDTV with compatible active-shutter 3D glasses, videos and 14-megapixel stills shot with the camcorder will show a three-dimensional effect.
The camcorder uses the "side-by-side 3D" method of composing and playing back 3D video, which ultimately cuts the horizontal resolution for each 3D frame in half when you display the video on a 1920-by-1080 HDTV: The television stretches the 960-pixel-wide footage from the left-lens and right-lens channels to fill a 1920-pixel horizontal resolution, and then sequences the footage to correspond with shutter activity in the 3D glasses.
According to Panasonic, the camera's performance undergoes a couple of notable changes when the 3D lens is in place: The camcorder's maximum aperture setting dips to F3.5, and you can use of the camcorder's control ring only to adjust white balance.
Without the 3D lens, the camcorder shoots 1920-by-1080-pixel full HD video at 60 progressive frames per second at its highest-quality video setting, which uses the MPEG-4/H.264 AVC codec. The camcorder can also record 1920-by-1080-pixel HD video at 60 interlaced fields per second in AVCHD format at a bit rate of 17 megabits per second; all of the footage is saved to a user-supplied SDHC or SDXC card.
Other notable features include a revamped Hybrid OIS image-stabilization system, manual controls, Intelligent Auto mode, motion-tracking autofocus, a 3-inch-diagonal flip-out touchscreen LCD, and 5.1-channel surround-sound recording.
Priced at $1400, the Panasonic HDC-SDT750 is slated for October release.
New 3D Lens for Micro Four-Thirds Cameras
At this writing, Panasonic has revealed considerably less about its new 3D Micro Four-Thirds lens for Lumix G-Series cameras; the company hasn't even released an image of the new lens yet. Though the lens is still in the prototype stage, it should be available by the end of the year.
Panasonic has not announced whether the 3D Micro Four-Thirds lens will be compatible with all Panasonic G-series cameras, whether it will be compatible with Olympus's Micro Four-Thirds cameras, whether the new lens will support video capture as well as still images, nor whether a firmware update will be necessary for the new lens to work properly with existing Lumix G cameras.
We'll post updated information about the 3D lens as soon as we know more.
Panasonic HM-TA1: Panasonic's First Pocket Camcorder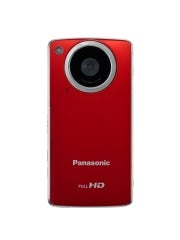 The HM-TA1, Panasonic's first foray into the ever-expanding field of high-definition pocket camcorders, offers specs that are on a par with those of the highly rated Kodak Zi8.
It shoots 1080p MPEG-4 video at 30 frames per second and 8-megapixel still images, storing both types of files on a user-provided SD, SDHC, or SDXC card.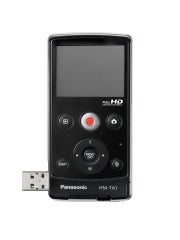 Other key features include a front-mounted LED lamp for shooting in dark environments, electronic image stabilization, a 4X digital zoom, a 2-inch-diagonal LCD screen, and a flip-out USB connector for offloading clips and recharging the battery.
You can also connect the HM-TA1 to a computer via its included USB cable, and use the camcorder as a Webcam/microphone combo. Panasonic says that the camcorder is designed to be Skype- and video-chat-ready as soon as you connect it to a computer.
Available in dark gray, red, and purple, case colors, the HM-TA1 will start selling in August for $170.
Panasonic HDC-SDX1: Small But Skilled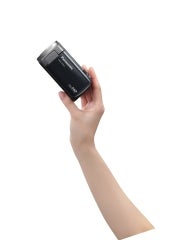 The new Panasonic HDC-SDX1 is slightly larger than a pocket camcorder, but not by much. Despite its diminutive size, it offers a full stock of features to go along with its 16.8X-optical-zoom, F1.8 lens.
The single-CMOS HDC-SDX1 shoots 1920-by-1080-pixel high-definition video at 60 interlaced fields per second in AVCHD format at 17 mbps (as well as 720p MPEG-4 video at 30 frames per second and 2.8-megapixel still images).
It offers the same high-powered Hybrid OIS stabilization system that the HDC-SDT750 does, along with Intelligent Auto mode, motion-tracking autofocus, several scene modes, and a 2.7-inch-diagonal touchscreen LCD. Like the new pocket camcorder, it also can serve as a Skype-friendly Webcam when connected to a computer, and it offers easy video uploads to YouTube and Facebook.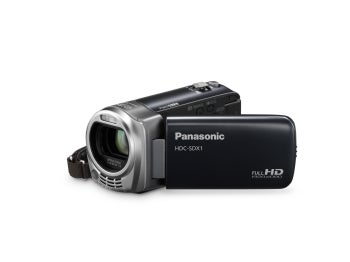 Weighing in at less than half a pound, the HDC-SDX1 is due in September for $500.