Intel on Tuesday announced it had developed a prototype interconnect that uses light to speed up data transmission inside computers at the speed of 50 gigabits per second.
Intel researchers said that the optical technology could ultimately replace the use of copper wires and electrons to carry data inside or around computers. An entire high-definition movie can be transmitted each second with the prototype, the researchers said.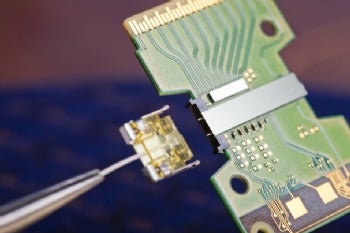 The technology will also be able to carry data over longer distances than copper wires, Intel researchers said.
Intel's chief technology officer Justin Rattner characterized the research prototype as a breakthrough in research as copper wires were reaching their limit. There is a wealth of data that needs to be moved, and transferring data at 10G bps or more over copper wires is becoming a challenge. Even if the data could be transferred over copper wires at that speed, there are distance trade-offs.
Optical interconnects solve that problem by allowing data transfers at much faster rates, and over longer distances, Rattner said on a conference call to discuss the technology.
"Photonics gives us the ability to move those mass quantities of data across the room… in a cost-effective matter," Rattner said.
The photonics technology could potentially speed up data transfers within PCs or devices such as handhelds, where movies could be downloaded at faster rates, Rattner said.
Laser is already used in devices such as DVD players, and also for applications such as long-distance communication. Laser technology can however be expensive, and Intel wants to bring the technology down to a low-cost point where it can be integrated into everyday devices, Rattner said. The company hopes to raise the speed of the optical interconnect to reach up to 1T bps (bits per second) as it increases the number of channels to improve data transfers.
But for now, the company has demonstrated in principle that it can get the pieces together and put it together in a fab. The next step is to implement it in chips and take it to volume manufacturing. The technology could reach the mass market by the middle of the decade, and could go into PCs, servers or mobile devices.
The technology won't be implemented at the integrated circuit level in the short term, but could replace copper wires that connect CPU to memory, for example, said Mario Paniccia, an Intel fellow. The optical interconnect will reduce latency, which could result in faster data movement and processing.
"We think it's going to be perfectly at home in data-center applications," Rattner said. For consumer applications, an optical interconnect would also help users to down movies to handheld devices at faster rates, Rattner said.
"Once we're confident we have a high-volume manufacturing capability, then we'll turn to the business question: what market opportunities are attractive to Intel?" Rattner asked.
The research prototype brings together a number of previous Intel research around devices that emit, manipulate, combine, separate and detect light. The interconnect includes a transmitter chip on a PC board that puts four optical channels on to fiber, and a receiver chip that receives the incoming light, splits the optical signals and converts the photons to electrical data.
Intel is already working on a new optical interconnect to link external storage drives, mobile devices and displays to PCs up to 100 meters away. Called Light Peak, the interconnect helps communicate data at up to 10G bps. Intel sees Light Peak as potential technology to replace USB, which is commonly used to connect storage and other devices to PCs.
Many companies, including Sun, which is now part of Oracle, and IBM have been involved in silicon photonics research.
Like this? You may also enjoy…