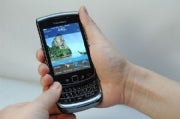 Next week may see the debut of the BlackBerry 6 operating system running on a brand new slider phone, suggested by an upcoming press announcement. Many sites and blogs are getting excited about invitations from Research In Motion and AT&T for an event in New York City on August 3. The event invitation doesn't say much, but its timing lines up with previous rumors that the BlackBerry Bold 9800 would debut this summer.
BlackBerry Bold 9800
The oft-rumored BlackBerry Bold 9800, also known as the Torch 9800, is believed to be the first device that will run BlackBerry 6. The 9800 is expected to have the same look and feel of most BlackBerry handsets, except that the face will slide up to reveal a physical keyboard similar to the Palm Pre. The 9800 would also have a touchscreen, but the handset may not come with SurePress technology, according to Chinese-language blog BlackBerry Time. SurePress is the oft-maligned tactile feedback touchscreen that debuted in the BlackBerry Storm. Other rumors peg the 9800 as having 4GB of internal storage and a 5-megapixel camera.
BlackBerry 6
BlackBerry has already released two promotional videos showing off new features in its upcoming OS overhaul. The videos show a touch-based BlackBerry OS that is kind of a mix between iPhone simplicity and Android-like features such as a hidden drawer you can pull up to access widgets. Some of the new features of BlackBerry 6 include a redesigned and simplified home screen; universal search; new music player with an interface clearly inspired by Apple's Cover Flow; social networking integration; and a new browser based on Webkit with pinch-to-zoom functionality.
The 9800 and BlackBerry 6 may be the most likely candidates to launch next Tuesday, but there is also speculation that RIM might introduce a BlackBerry clamshell device. Others are guessing we might see another Bold device called the BlackBerry Bold 9780. The 9780 is said to be running BlackBerry 6 and feature microSD support and a 5 megapixel camera. It's less than a week until we know for sure.
Connect with Ian on Twitter (@ianpaul).