Just weeks after slashing the price of its Kindle e-reader to $189, Amazon has sold out of the device. A note posted on Amazon's site says that the Kindle is "temporarily out of stock. Order now and we'll deliver when available. We'll e-mail you with an estimated delivery date as soon as we have more information. Your account will only be charged when we ship the item." (Click on the image to see for yourself.)

It must be a banner day for Amazon, right? After all, it was just a few months ago that pundits were predicting the Kindle would fall victim to Apple's iPad, a slicker, more capable device. Now, it seems Amazon has shown that the Kindle can stand up to the more technologically advanced competition.
But before Jeff Bezos and crew pop the champagne and start celebrating, I have a few words of warning. Here are five reasons why I'm not convinced that today's Kindle news is worthy of a toast.
1: Watch Out for Falling Profits
The Kindle 2 (the 6-inch model now commonly referred to as just the Kindle) debuted in March 2009 for $359. Months later, that price was cut to $259, and now has dropped all the way to $189. Price cuts are not uncommon as gadgets age; in fact they're expected. And while Amazon has said the $189 price has been a "tipping point" at which the company has seen sales of the Kindle triple, it also means that the company is making $170 less on each Kindle it sells. Even if sales have tripled, can Amazon say the same about its profits?
2: Is $189 Still Too Expensive?
The Kindle may seem cheap at $189–especially if you were one of the early adopters who paid $359 for the device–but it that price may still be too steep. A recent study from Forrester Research suggests that e-readers need to be priced in the $50 to $99 range if they're ever going to become best-sellers. And Forrester notes that today's e-readers cost more than that to manufacture, making that price point nearly impossible.
The consensus of Forrester's study? "The majority of consumers don't care enough about reading or technology to invest in this type of single-purpose device at anything close to realistic prices." Ouch.
3: Sales Stats Unknown
Amazon has said that sales of the Kindle have tripled since the price was cut to $189. But the company hasn't released any sales figures, so the numbers still remain a mystery. Three times an unknown figure is…still an unknown figure.
Granted, Amazon has every right and plenty of reasons to keep its sales statistics private. But if the company really wanted to show that sales of the Kindle were keeping pace with the competition (Apple, after all, recently announced that it has sold more than 3 million iPads since the device's April launch), why not share those numbers with the world?
4: About that iPad . . .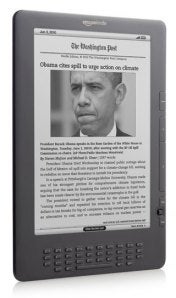 I am not convinced that the 6-inch Kindle needs to compete with Apple's iPad in order to survive; I think that task falls on Amazon's bigger, pricier Kindle DX. (The $379 DX, by the way, is still in stock, a fact that is currently being hyped on Amazon's home page.) At $189, the Kindle is significantly cheaper than the iPad, and is obviously aimed at people who just want to read books and periodicals.
But the Kindle does need to innovate in order to survive. The Kindle 2 featured some significant improvements from the first-generation device, such as a slimmer design and an improved E-Ink screen. But Amazon also touted improvements like 20 percent faster page turns–a snore-inducing feature if I've ever heard of one. Amazon needs more headline-grabbing features, like that rumored touchscreen, to get new users interested in and excited about the Kindle.
5: Beware the Multifunction Devices
The iPad may not be the Kindle's biggest concern, but that doesn't mean that there isn't plenty of competition out there. Amazon has released free versions of its Kindle software for most of today's major smartphone platforms, and these smartphones could be what cannibalizes the market for dedicated Kindle devices.
As smartphone screens get bigger and better (the Android-based HTC EVO 4G and Motorola Droid X both offer 4.3-inch screens), it will be harder and harder to convince users that they need an e-reader and a smartphone. After all, if you can spend $189 on a device that will let you read books, or $199 on a device that will let you read books, make calls, surf the Web in color, serve as a portable GPS device, and more, which one would you choose? I know where I stand.
I'm not saying the Kindle's future is bleak. I do think there will be a market for low-cost, dedicated e-readers for the time being. But I think Amazon needs to do more than just lower prices if it wants to celebrate the Kindle's success.