Apple on Wednesday released Safari 5.01 for Mac and PC that lets you add third-party extensions to the browser such as e-mail alert widgets and news alerts. Safari users can now easily add extra functionality to their browser through the Safari Extensions Gallery at extensions.apple.com or from individual developer's websites (click on the screen cap for a closer look). Safari Extensions were announced when Apple launched Safari 5 in June.
Safari's addition of extensions brings it in line with browsers like Firefox and Chrome that also offer third-party add-ons to enhance your browsing experience. Internet Explorer also supports extensions, but they aren't nearly as popular as those found in Chrome and Firefox. Similar to Chrome, Safari's extensions will update in the background, and Apple says you won't need to restart your browser to complete installation for third-party extensions.
Security
Apple said it digitally signs all third-party Safari extensions to prevent tampering, and also to ensure that extension updates come from the original third-party developer. The company did not specify whether it is putting Safari extensions through an approval process similar to iPhone applications.
Apple was also careful to point out that all extensions will be sandboxed, meaning the extensions won't have access to your computer system. Safari extensions also won't be able to communicate directly with websites, except for those sites specified by the developer. Sandboxing is likely welcome news for Mac OS X users, after it was recently discovered that hackers could use Safari's AutoFill feature to steal sensitive information from a user's Apple Address Book.
Extensions
Trying out the new extensions feature on a Mac was a fairly straightforward experience. I just clicked on Safari>Safari Extensions Gallery, and I was taken to Apple's dedicated extensions page at extensions.apple.com. At launch,
Apple is offering more than 100 extensions on its site categorized into 16 different sections such as social networking, search tools, shopping, and RSS tools. Featured extensions included the MLB toolbar giving you access to game and league updates, Bing Highlights (to search Bing by highlighting text on any Website); and an Add to Amazon Wishlist extension, among others.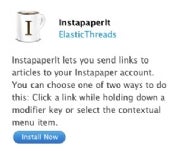 Installing Safari extensions was an easy, one-click process. For example, to add the "Instapaper It" extension to my browser all I had to do was click on the "Install Now" button and within seconds the extension was installed. Then I just added my Instapaper account information into Safari under the Preferences tab, and started using the extension.
You can also completely turn off extensions for Safari by clicking Safari>Preferences>Extensions, and click on the "Off" button at the top of the preferences window.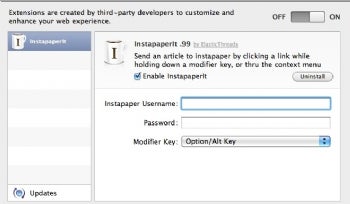 If you want to try out Safari 5.01, you can click here to download it from Apple's Website. Safari 5.01 for Windows works with Windows XP SP2, Vista, Windows 7, and Mac users need at least OS X 10.5.8 for Leopard users and 10.6.2 for Snow Leopard.
Safari isn't the only browser to receive a recent update; Mozilla on Tuesday released Firefox 4 beta 2.
Connect with Ian on Twitter (@ianpaul).
When you purchase through links in our articles, we may earn a small commission. This doesn't affect our editorial independence.