If you have a question, just ask. Facebook has an answer. The site launched a beta version of its new "Facebook Questions" service today, a feature which allows users to ask a question and then have anyone in the Facebook community take a crack at answering it.
Questions are posed from a new "Ask Question" button on a users profile, and are visible to all of that persons friends, as well as the entire Facebook community. Users also have the option to add a photo or poll to the question, making it easy to get an opinion on everything from what color paint would look best in your bathroom to your next hairstyle. (click on either image to zoom)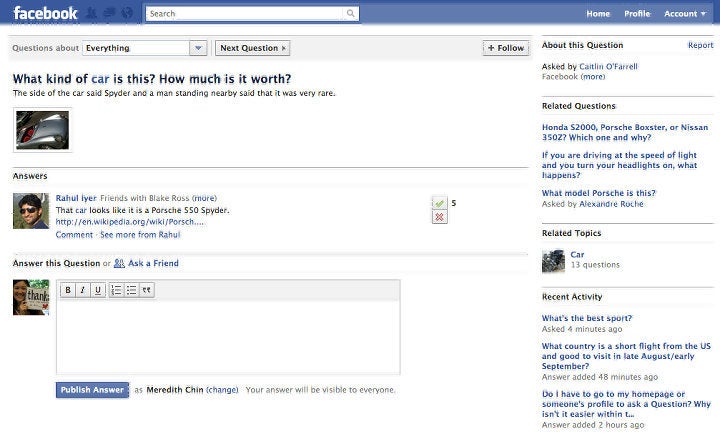 Questions posed using the service can also be tagged as a specific topic, and then will be shown to Facebook users who have expressed an interest in that topic. For instance if you are a wine connoisseur, then you can search for "wine" and answer questions about vino. All of the questions on the site are searchable and can be answered or read by anyone.
Opening the questions up to be answered by the entire Facebook community allows users to get a little more out of the service. For instance if you're going on a trip, you can get advice from locals in the area on where to eat and what to do. If you need help with you car you can get advice from a mechanic, rather than your friend who just thinks they know about cars.
Facebook Questions puts itself directly in competition with other question and answer sites such as Ask.com and Yahoo Answers. With 500 million Facebook users and counting, that competition is bound to be a fierce one.
Facebook Questions is currently only available to a small number of Facebook users with plans to roll the service out to the rest of Facebook as quickly as possible.
What do you think about Facebook Questions? Can you see yourself using the service?