RIM is expected to announce details of the iPhone-esque BlackBerry 9800 next week. Don't hold your breath that for the BlackBerry smartphone to blow the iPhone or Android smartphones out of the water, but as long as the device can hold its own it should be a winner for RIM.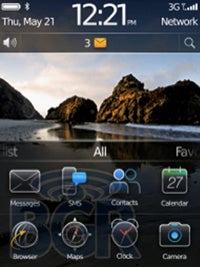 Rumors suggest that–like the Apple iPhone–AT&T will be the exclusive carrier, at least initially. That benefits AT&T and its customers from the standpoint that it expands its portfolio of high-end smartphones–which right now comprises only the iPhone 4 and the Android-based Samsung Captivate.
A more diverse range of smartphones means that AT&T won't rely so heavily on the Apple iPhone. For customers, it means having some choices beyond the iPhone–particularly for iPhone 4 customers that take Steve Jobs up on his offer and simply return the device rather than dealing with the various issues that seem to plague some of the devices.
The iPhone and Android platforms have been steadily gaining market share–with Microsoft in free-fall pending the release of Windows Phone 7, and a stale portfolio of handsets from RIM. With the BlackBerry 9800, RIM can inject new life into the BlackBerry brand and give businesses more reason to stick with the tried and true business smartphone platform.
For RIM, it's not important that the BlackBerry 9800 deliver features surpassing other smartphones. RIM can leave the battle for bleeding edge innovation to Apple and the various Android smartphone manufacturers, and focus on staying true to its origins while providing a smartphone comparable to an iPhone.
Users might appreciate the bells and whistles available on cutting edge smartphones like the iPhone 4 and Droid X, but IT admins have a healthy appreciation for simplicity and stability. The BlackBerry phone does not have to push the envelope or raise the bar, it just has to come close enough to the iPhone experience to appease users, while still providing the productivity and infrastructure management capabilities that IT admins expect from RIM.
Because so many companies have already invested in BlackBerry and built IT infrastructures around the BlackBerry Enterprise Server (BES) and managing the platform, much of the RIM audience is somewhat captive anyway. Switching to another platform would require a huge investment of time and money, as well as a culture shift and learning curve for the users.
As long as the BlackBerry 9800 has some sort of copycat form factor with the features and functions introduced by the Apple iPhone that seem ubiquitously common across smartphones now, BlackBerry users with iPhone envy who are tired of their boring old BlackBerry handsets will readily embrace it. That will keep both users and IT admins happy. When users and IT admins are happy–RIM and its shareholders are happy too.