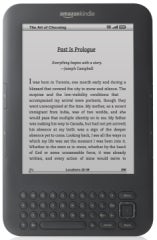 Amazon took its time with its latest Kindle–and that investment has paid off in spades. A year-and-half after the Kindle 2, Amazon today introduced its latest-iteration Kindle, and the improvements are dramatic. An enhanced display, faster navigation, and an entirely redesigned chassis aren't the only things that set this Kindle apart from its competition. Amazon is continuing to pursue an aggressive pricing strategy: The Wi-Fi-and-3G version of the new Kindle will cost $189, while the Wi-Fi-only model will cost $139 ($10 less than Barnes & Noble's Wi-Fi-only Nook).
Don't call it a Kindle 3, though: Amazon insists that the e-reader's name remains simply Kindle. Nevertheless, you won't mistake this Kindle for any of its predecessors. The latest model is 15 percent lighter and 21 percent smaller than the second-generation model, but retains its predecessor's 6-inch screen size. The reduced weight definitely makes a difference.
The new Kindle uses the same E-Ink Pearl screen found on the Kindle DX (Graphite). The screen's refresh rate is 20 percent faster than its predecessor's, which, together with software enhancements, makes the Kindle fly through menus.
Other boosts: Internal storage can now accommodate up to 3500 books, 2000 more than the previous version.
The physical design of the Kindle is vastly improved. At just 8.7 ounces, it's lighter than the competition (Spring Design's Alex eReader weighs 11 ounces; Barnes & Noble's Nook weights 11.6 ounces for the Wi-Fi-only version and 12.1 ounces for the 3G unit; and the Bookeen Cybook Opus, which has a 5-inch screen, weighs in at 5.3 ounces).
While Amazon remains cagey about Kindle e-reader sales numbers, the company did drop this tidbit when asked about how it achieved some of the design enhancements. According to Ian Freed, vice president for Amazon Kindle, Amazon's sales volume for the devices is high enough now to drive component costs down–and to encourage component suppliers to come to Amazon with innovations. This could be interpreted as a sign of Amazon's strength in this market.
The new Kindle is available for preordering tonight, and will ship on August 27.