Earlier this week Apple revealed the long-rumored desktop trackpad, known as the Magic Trackpad. Just days later, and as expected, the folks over at iFixit has ripped the new multitouch device apart.
Upon opening the new wireless multi-touch trackpad, model number A1339, iFixit got to work on identifying the nine pieces which make up the 'magical' innards of Apple's latest.
The thin device, which is 80% larger than the trackpad found in current MacBook Pro's, houses a Broadcom BCM2042 chip, used for Bluetooth connectivity. Also found within the compact trackpad is a touchscreen controller chip (Broadcom BCM5974) – the same chip used in Apple's MacBook Air and both the iPod Touch and iPhone.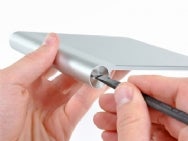 If, for some geeky reason, you want to take apart your new trackpad to see the magic within for yourself you will need the following: a heat gun, soldering iron, tweezer, spudger and iPod opening tools.
A full run down of the teardown process, including additional information and imagery can be found over on iFixit's site.
For more Geek Tech updates follow Chris Brandrick and GeekTech on Twitter.