Encrypt Stick (free and $40 versions) is one of the most secure and least intrusive ways to encrypt sensitive data. It leaves no footprint on your (or others') PC, because it resides on and runs off a flash drive, and will run on both PCs and Macs. It also uses polymorphic encryption (the algorithm will change for each device it runs from) that the company claims is 10 times faster than 256-bit AES, and even provides a nifty virtual keyboard to prevent keylogging of any sort.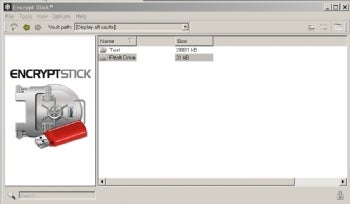 I didn't find the program particularly easy to install or learn, but it's quite simple to use once you're up to speed. My problem with the installation was that I didn't realize there isn't any–the program is actually portable. After puzzling for a few minutes I realized my mistake, ran the program from a flash drive, and was good to go. The Encrypt Stick interface could use a modicum of improvement; there was truncated text at 120DPI, and the virtual keyboard icon was rather unintuitive. The vendor, ENC Security Systems, says it will take care of these issues in short order.
Once you're accustomed to the heavy use of right-click context menus, all that's required is to drag files to and from the flash drive where Encrypt Stick creates its default vault, i.e. encrypted archive. You can also create vaults on other drives (including internal hard drives), but the flash drive to which you installed the program acts as the key. That is, it must present on the system and you must enter the password it prompts you for when you run the .exe file (it will autorun if your system is configured for that) before you can access files in any of the vaults created with it. You may also export files that will remain encrypted until they're dragged back to a vault. I tried Encrypt Stick with several 100MB video files and found it operated at about the same speed or faster than an archiving utility.
Even if you don't need encryption for your files, Encrypt Stick's secure virtual keyboard is a must-see. It has multiple keys for each character, character locations shift around with each virtual key press, and when the mouse is over a virtual key, its label disappears. How the bad guys would log this thing I have no idea. In the spirit of the Three Stooges, I plan to try it out on some unsuspecting friends after a few rounds of drinks.
Encrypt Stick also includes a handy password manager that eventually will include an integrated Webkit-based browser to launch and log you in automatically to Web sites. There's even a "boss" key that will hide the program immediately should you sense the presence of prying eyes near your computer.
The more I used Encrypt Stick, the more it impressed me. The free version is limited to 20MB of storage, one group of passwords, etc. but it's still quite useful. There's a full feature comparison between the free version and the $40 full version, which is aimed at corporate and government users, on the company's Web site. It's a small download for such an amazing set of features–and you must try the keyboard.