At a Glance
Expert's Rating
Pros
Dark border
Strong integration with Amazon's bookstore
Enhanced screen contrast
Cons
Same weight as predecessor
No Wi-fi-only version
Our Verdict
Large-format e-reader now comes with improved contrast and Wi-Fi.
What a difference a display can make. All it took was turning on the $380 Amazon Kindle DX (Graphite) second-generation large-format e-reader to see that Amazon's claims of a higher-contrast display than its predecessor were true. The E-Ink display indeed reflects a significant improvement in contrast, as evidenced by the clarity of the crisp text, and the darker blacks of graphics and words alike.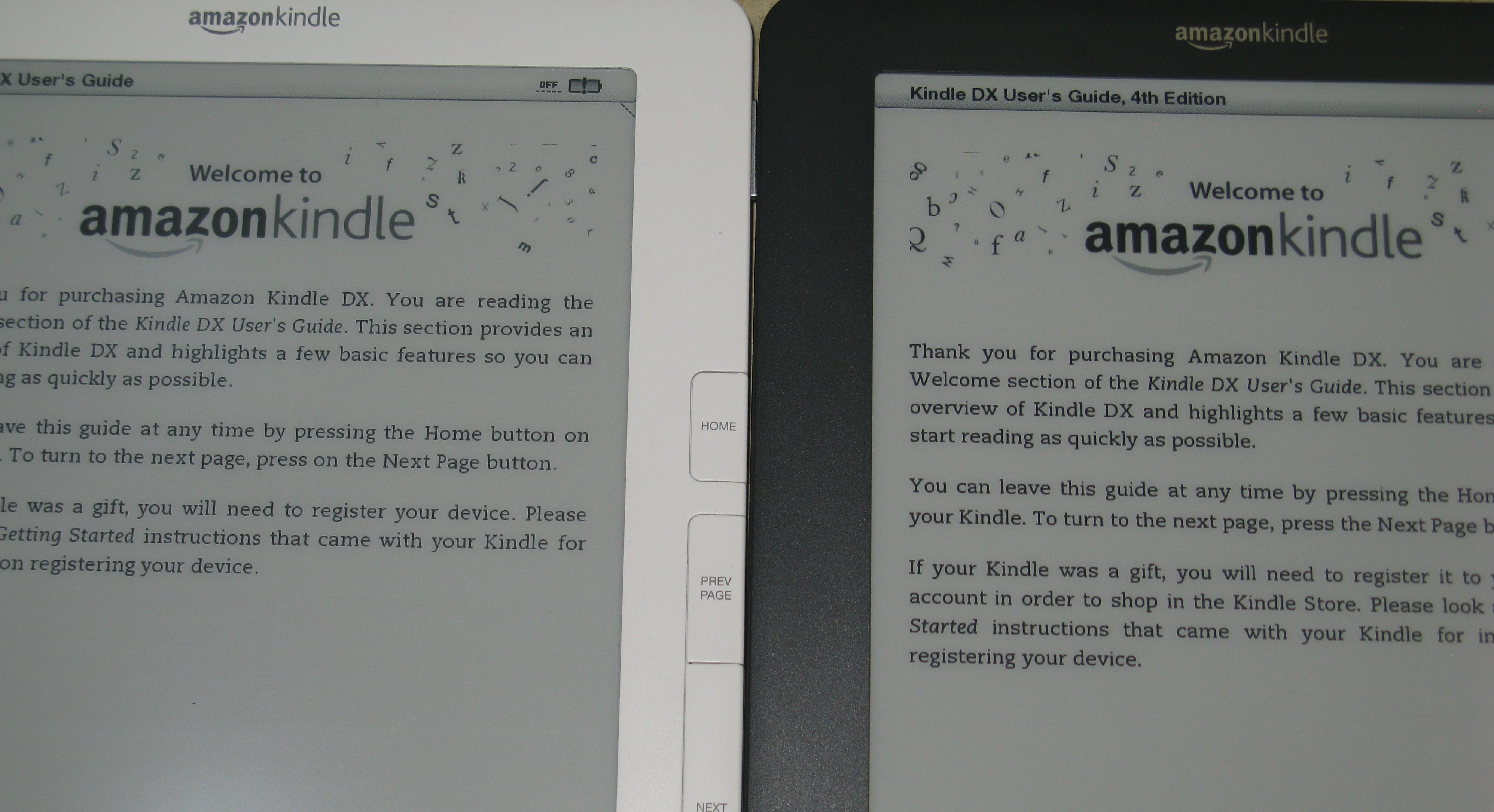 The blacks, in fact, truly look black; by comparison, the blacks on the original Kindle DX appear dingy and gray. Words on the Kindle DX (Graphite) appear to jump off the page, as you can see in this side-by-side photo (click for full size). Unfortunately, the darker text means that you can also more clearly see the jaggies in the default, and only, text font of the Kindle DX (Graphite), at least at the default third font size. The Kindle DX (Graphite) has a lighter, more solid background to its E-Ink display than its predecessor. Where the original Kindle DX appears to have a patterned, very newspaper-like background, the new Graphite version appears lighter in color, with less distinct patterning.
Also of note: The Kindle DX's new cosmetics. The unit is housed in a dark gray ("graphite") case, as opposed to the off-white case of the original Kindle DX and Kindle 2. I have to say I prefer the darker chassis. While this model clearly also has a superior display to those earlier models (an observation made in isolation of the case color), in general I find the reading experience enhanced by having a dark border around the e-reader. Most e-readers, including the Barnes & Noble Nook and the Kindle 2, are light-colored; but of those I've used that have light and dark varietals (Aluratek Libre eBook Reader Pro, Spring Design Alex eReader, and now Kindle DX), the dark version consistently provides the easier-on-the-eyes reading experience.
Page turns left me with the impression of being zippier than on the Kindle DX, but I still found myself frustrated by its still-sluggish navigation speed compared with an LCD-based e-reader experience. Amazon does add Twitter and Facebook social network support, so you can highlight a passage and share with your social network. On Facebook, for example, the shared passage goes into your News Feed, showing the book cover and attribution, and whatever message you wish to add before hitting send; follow the book cover back to Amazon's site for shopping links.
At $380, the Amazon Kindle DX continues to excel as a large-format E-Ink-based e-reader, for both Kindle books and PDFs. And its lower price makes it that much more attractive. But prospective buyers will need to consider the trade-off of purchasing this e-reader versus a multipurpose tablet like Apple's $499 iPad. E-Ink displays continue to hold a battery life and readability advantage (especially in bright sunlight), but the LCD-based iPad is more responsive and supports color.