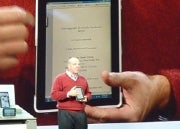 Microsoft is hard at work preparing a Windows-based alternative to Apple's already-popular iPad tablet, the company's CEO Steve Ballmer told analysts on Thursday. Hewlett-Packard, Dell, Asus, Lenovo, and Toshiba are cooperating with Microsoft on such a device, expected later this year, in a bid to catch up with Apple and Google Android.
"It is job-one urgency around here. Nobody's sleeping at this point," Ballmer told analysts. The Microsoft CEO was also surprised to hear Apple sold more than 3 million iPads, since launched in April: "They've sold more than I'd like them to sell. We think about that," he said.
Ballmer's idea of an iPad alternative will use Intel processors and Windows 7, instead of its mobile Windows Phone 7 platform. Besides that comment, he offered no details on the upcoming Windows-powered tablets.
Apple, Android Have Head Start
Microsoft underestimated Apple's flair for touch-based computers. Apple unveiled its iPad in January, and started selling it in April. Since then, the company sold over 3 million iPads, and expected to sell up to 10 million units this year.
Google Android, Apple's biggest rival in the mobile computing arena, also secured its spot on several upcoming tablets. Cisco, Dell, Asus, LG, and Samsung, to name a few, have announced Android-based tablets, slated to arrive this autumn.
Former Pioneer, Now Latecomer
Microsoft was the first to anticipate the future of mobile computing, when it launched in 2003 the Windows XP Tablet edition, yet the clunky first devices based on it were up to a very slow start.
After killing the Courier dual-screen tablet project just a few weeks ago, Microsoft was left without any tablet plans in the pipeline, as HP also reportedly ditched Windows 7 on its Slate tablet in favor of Palm's WebOS, which it acquired in June.
As it stands now, Microsoft's lack of details on the upcoming Windows tablets is not encouraging, despite Ballmer's promises:
"We've got to push right now with our hardware partners. People will say, 'When?' I'll say, 'As soon as they are ready,' and it is job-one urgency," he said.