Remember Boxee, the media-center software that streams TV shows from Hulu, Netflix, and other online sources? Clicker.tv is kind of like Boxee, but without the software.
Rather, its interface lives entirely inside your browser. And it's designed for 10-foot viewing, meaning you can kick back on the couch with nothing more than a keyboard.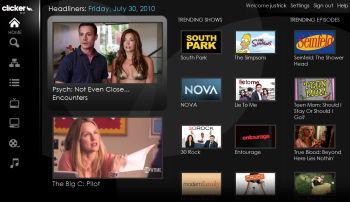 Clicker.tv provides an attractive front end for perusing Clicker.com's index of 10,000 TV shows, 30,000 movies, and 80,000 music videos. Not all of this content is free–in some cases your only viewing options are Amazon Video on Demand and/or iTunes–but much of it is just one click away.
Find a "Seinfeld" episode, for example, and Clicker.tv instantly transports you to TBS.com for viewing. The only downside is that you're then subject to that site's playback controls. While Clicker.tv itself can be operated using little more than arrow keys, many streaming sites require play/pause, volume, and other buttons usually found on a remote. At the very least, you'll probably need a mouse.
The service lets you build playlists (though only, it seems, of selected shows, not individual episodes), and search just by starting to type. There's even Facebook integration: Clicker.tv can update your feed so friends know what you're watching.
I'm not saying this site can take the place of Boxee, Windows Media Center, or the like, but it's definitely fun to play around with and an admirably polished Web app. Best of all, it's free.
Clicker.tv is optimized for Chrome, but I found that it worked just fine in Firefox and Internet Explorer.