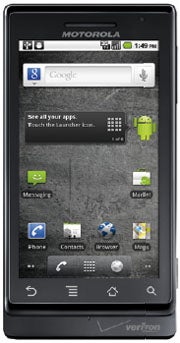 A big week is ahead for those of us in the Android world. In case you haven't heard, both the Motorola Droid and the HTC EVO 4G are now set to receive Froyo over the next several days. Verizon and Motorola confirmed plans to upgrade the Droid to Android 2.2 on Friday, just one day after Sprint announced its EVO upgrade schedule.
To be clear, when we say "Motorola Droid," we're talking about the original Droid — not the Motorola Droid X or the HTC Droid Incredible. While some recent rumors have suggested those phones could see Froyo this coming week as well, no official announcement has been made to that effect so far. (See my Android 2.2 upgrade list for more on the status of those and other Android devices.)
As we all know, it's been a couple of months since we started talking about Android 2.2 reaching the Motorola Droid. Here's a quick refresher on what you can expect once Froyo finally invades your phone.
A Faster Motorola Droid
Your Motorola Droid should run noticeably faster once Froyo graces its system. The latest edition of Android is two to five times as fast as the 2.1 release, particularly when it comes to CPU performance and app switching. The stock system browser runs considerably quicker, too, thanks to a new Javascript engine.
Flash, Baby — Flash
This ain't no iPhone: Android actually supports Flash, meaning you can view any Web page without getting that little blue box. With Android 2.2, your Motorola Droid gets up-to-speed with full support for both Adobe Flash and Adobe Air.
Five Home Screens
According to Verizon, the Android 2.2 update will expand the Droid from three home screen panels up to five. You'll also gain a new launcher bar at the bottom of your screen that'll provide quick access to your phone and browser functions, regardless of which panel you're on.
Better Droid Security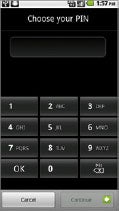 Froyo will help make your Motorola Droid more secure in several ways: First, you'll have the option of assigning a numeric or alphanumeric password instead of the standard pattern-based password on the phone's lock screen. The Droid will also feature enterprise-oriented security boosts such as remote device wipe and minimum password requirements.
SD Card Support for Apps
Froyo will allow you to install Android applications on your Motorola Droid's SD card, putting an end to the internal storage restrictions of months past. Moving apps from your Droid's internal storage to the SD card — even after they're installed — will be easy; a new option in the phone's app settings menu provides one-touch toggling for any supported app's location.
Bluetooth Voice Dialing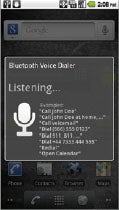 Once Froyo's on your phone, you can truly use your Droid hands-free. Android 2.2 includes Bluetooth voice dialing functionality, something that's long been missing from the Android operating system.
A Better Camera Experience
The Motorola Droid's system camera gets a slight makeover with the latest Android upgrade. With Froyo, you'll find new buttons to control the camera's zoom, white balance, focus, exposure, and geo-tagging right from the camera's main screen. The Droid's video camera will also be able to utilize the LED flash for better lighting, and it'll include quick-formatting options to save and upload videos directly to YouTube or MMS messages.
Automatic App Updating
Keeping your Droid's apps up-to-date will be a lot easier with Android 2.2. Froyo adds a new automatic app updating feature that allows you to set apps to automatically download and install updates without any intervention. If auto-updating isn't your thing, the Android Market also gains a new "Update All" function that lets you manually grab multiple app updates in a single swoop.
Upgrading Your Motorola Droid

to Android 2.2
So how will you know when your Motorola Droid is ready to upgrade? It couldn't be simpler: A message will pop up on your screen letting you know the update is ready to download and install. You'll have to have at least 40 percent of your battery remaining in order to proceed (unless your phone is plugged in to an external power source, in which case you'll need at least a 20-percent charge).
Once you authorize the process to begin, your phone will start receiving the new software over-the-air. After the download itself is complete, you'll just tap a button to tell your phone to restart and install the upgrade. All of your settings, including your home screen configurations, should remain intact (though it can never hurt to back up your Android home screens from time to time).
It's taken a while for it to arrive, my fellow Droid owners, but our Froyo is finally here. I don't know about you, but I'm this is one dessert I'm more than ready to devour.
JR Raphael is a PCWorld contributing editor and the author of the new Android Power blog. He's on both Twitter and Facebook; come say hello.