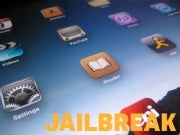 Jailbreaking your iPhone was never easy, but a new tool called JailbreakMe promises to change that. It lets you unlock an iOS 4.O device effortlessly. The free online-based tool, and instructions, come just days after jailbreaking your iPhone was declared legal by the U.S. Copyright Office. Jailbreaking your iPhone lets you install various non Apple-vetted applications to your iPhone, iPad, or iPod Touch.
The hack is accessible to anyone through JailbreakMe.com, via the Mobile Safari browser, and can be used with an iPhone 4, 3GS and 3G running iOS 4 and 4.0.1 (the signal bars update). Until now, jailbreaking your iPhone involved having the device connected to a computer, in a painstaking process that put off some of the more novice users. JailbreakMe makes hacking your iPhone much easier, as it's a browser-based solution and requires no additional artifices.
Jailbreaking Through Its Paces
To test how simple jailbreaking using JailbreakMe is, I decided to use my second-generation iPod Touch and give it a go. Before you decide to follow this process with your iPhone or iPad, keep in mind that despite the legality of this action, Apple is still against it. The company reminded users last week that jailbreaking your iOS device voids your warranty, and you won't get free repairs.
I pointed the iPod touch's Mobile Safari browser to JailbreakMe.com, and started the process by sliding the button on the screen (which looks like the iOS lock screen). The hack started downloading, and after a couple of minutes, it began installing. A few more minutes later, the iPod touch was jailbroken and the Cydia Store app was installed. The whole process took less than minutes on a regular Wi-Fi connection.
Some Users Report Problems
Early reports on Twitter and on the Web say that some iPhone 4 owners who used JailbreakMe to hack their phones are having problems with FaceTime and multimedia messaging services (MMS). Comex, the creator of the service, said he is busy to fix these issues as soon as possible. Meanwhile, this site has a potential temporary fix.
The JailbreakMe site also had several issues this morning, as high demand on the servers has put a strain on the service. The Cydia Store (the store for jailbroken apps) also had several hiccups during my testing with the freshly-jailbroken iPod touch.
Taking Precautions
The jailbreaking process from JailbreakMe is not permanent. As long as you sync your iOS device with iTunes before you jailbreak it, you will be able to remove the hack by simply using the restore feature. If anything goes wrong, don't hesitate to use it.