ENVy (free) is an easy-to-use tool for analyzing your computer, and perhaps more important, comparing it to another computer. While this may be done just to show off how much better you computer is than your friend's, it has a much more important application in the worlds of software distribution and corporate IT–making sure that two "identical" machines really are, and tracking down seemingly insignificant differences which might lead to unexpected software incompatibilities.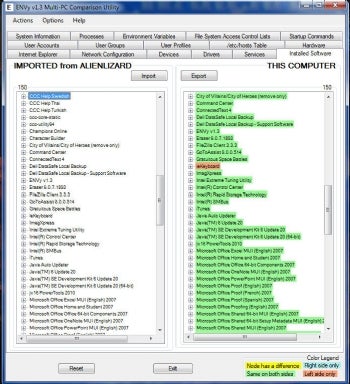 When ENVy starts up, it gives you the option of a deeper (more time-consuming) scan, or a faster and simpler one. When it's done scanning, ENVy provides a set of tabs and two outline trees. Even without the comparison functionality, the analysis of a single machine can be informative, especially if you're trying to verify promised levels of functionality or find an obscure bit of data as to what driver you're using. The key feature of ENVy, though, is the comparison.
ENVy does things a bit oddly. First, you must use ENVy to generate a report on a different machine, and then import it to ENVy running on the current machine. The reports display in two separate panes, but the right-hand pane shows all the differences. This is not the way most "diff" type tools work, but it is efficient. It's much easier for me to see two different items when they are stacked vertically than when they're side-by-side, and scanning down two lists of uneven length looking for what's been added to 'a' or deleted from 'b' is less useful than seeing it all put together, as ENVy does. Color coding tells you if a particular line is only in one side or the other, or has been changed (and you see both values when they're change.)
I tested ENVy by scanning my system, saving the scan, and then uninstalling a program and rescanning. Not only did ENVy correctly show the program was no longer installed, but it also picked up several other changes, such as the number of processes (I'd started up Word before rescanning), free memory, and, more small things I'd never considered might change moment-to-moment. This highlights another potential use of ENVy–scan your system, launch an application, then rescan. See what services and processes the application quietly launches behind the scenes, and how much RAM it sucks down.
When I experienced some issues with earlier versions of ENVy on my computer, the developer was very helpful in finding and fixing the problems. I've had no problems with the latest version.
ENVy is free, compact, and functional. If you have a need for detailed system analysis, especially with comparison between systems (or the same system at different times), ENVy is well worth checking out.