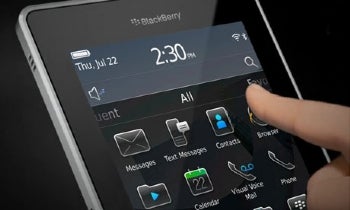 Despite growing competition from Apple's iPhone and Google's Android platforms, Research In Motion (RIM) reigns supreme in the U.S. smartphone market. Its market share tops 40 percent, and it's shipped more than 100 million BlackBerry devices. RIM's new BlackBerry 6 operating system and rumored Bold 9800 handset will likely debut on Tuesday at a media even in New York City. And the company's a major player internationally too.
RIM's lacking in the tablet department, however. Apple's iPad is a proven hit, and a varied assortment of Google Android-based slates will arrive before the end of the year. But RIM may be gearing up to launch its own tablet in November. According to a recent Bloomberg report, the device will be called the "BlackPad," feature iPad-like dimensions (including a 9.7-inch screen), and sport Wi-Fi and Bluetooth wireless connectivity.
But can RIM segue from smartphones to slates? Let's take a look:
Pros
Huge market share: Since BlackBerry rules the business world, RIM is in an excellent position to parlay its smartphone success into strong tablet sales in the enterprise market.
Best business tools: RIM's new Enterprise Server 5 software has some of the best mobile management tools in the industry, including the ability to separate business and personal content on a BlackBerry phone. For instance, an IT administrator can remove corporate data from an employee-owned BlackBerry without touching the worker's personal information and apps. Those features could prove appealing on a RIM tablet too.
Cons
Uncertain market: The iPad is primarily an entertainment device for consumers. It won't print (at least not without some third-party help), won't run Flash, and it really isn't built for business use. It remains unclear how business users will take to tablets.
Few apps: The BlackBerry App World catalogue has a sparse selection of 8000-plus apps, according to RIM. (I counted just over 8700 a couple of weeks ago.) Compared to Apple's 225,000 apps in its App Store, and the 60,000-plus apps in Google's Android Market, BlackBerry's store shelves look practically bare. However, these three platforms will probably be on a more even level (with the iPad taking the lead) when we start comparing apps written exclusively for tablets.
Dumb name: BlackPad? Sure, I get the synergy with "BlackBerry," but the tablet sounds like something right out of a 70's blaxploitation flick. Does a baaad mutha like John Shaft use a BlackPad?
Too bad Isaac Hayes passed on. He could've written the commercial jingle.
Contact Jeff Bertolucci via Twitter (@jbertolucci ) or at jbertolucci.blogspot.com .