Recent numbers from both Nielsen and metrics firm Canalys suggest that Google's Android platform will take the top spot. Nielsen says Android grabbed 27 percent among new mobile subscribers in the U.S. over the past six months, just beating out Apple's 23 percent share. Even more impressive is a report from Canalys that says Android grew by 886 percent between April and June compared to the same period last year.
But the iPhone, BlackBerry, and Windows Phone all have something to offer as well, and it could be enough to beat out Android. Below, a look at each of the competitors.
Android
Android's growth has happened so quickly that many wonder if Android will become as ubiquitous on smartphones as Windows has on PCs. Just like Windows, Android isn't tied to a specific device, and anyone can develop on top of the platform. In fact, Google made that job even easier with the release of a free Android application development tool for beginners called App Inventor. Loyalty is also fairly high for Android, with 71 percent of current Android users saying their next phone will be another Android device, according to Nielsen.
But as with Windows, there are concerns about Android being more prone to malware than other smartphone brands. Google's OS isn't the overall top brand in the U.S. yet, owning just 13 percent of the market, according to Nielsen. Compare that to Research In Motion (RIM) at 35 percent and the iPhone at 28 percent.
But if Android keeps growing at such a fast pace, it could become the number one smartphone in the U.S.
IPhone
Despite antenna reception issues and reports of a faulty proximity sensor, Apple's iPhone 4 is hugely popular with users. The company sold 1.7 million devices within the first three days of the device's launch; that number moved up to 3 million within the first three weeks.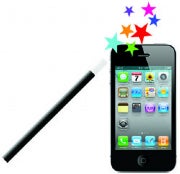 But just as Android may be the new Windows, some are predicting the iPhone will become the new Macintosh computer. Just as the iPhone has popularized the idea of a smartphone, the original Macintosh popularized the idea of a home personal computer
But though the Macintosh began as a popular device, it was eclipsed by cheaper IBM clones and Windows-based computers a few years later. The numbers offer early warning signs that something similar may be happening to the iPhone. While Android popularity explodes, iPhone growth appears to be slowing. Over the past six months, the iPhone has gone from 23 percent market share among new subscribers to 34 percent and then down again to 23 percent, according to Nielsen. The iPhone's overall popularity, however, has remained pretty steady at 28 percent for the last few financial quarters.
Yet the iPhone has several advantages that its competitors lack. Its user loyalty and satisfaction rates remain strong. Ninety percent of iPhone users say they would purchase an iPhone again, Nielsen found. Many other studies have come to similar conclusions. Apple also has the ability to inspire overwhelming desire for new iPhones, resulting in massive lineups around the world whenever a new device comes out. It's unlikely that any other smartphone maker could ever replicate that level of user enthusiasm.
BlackBerry
RIM's BlackBerry may be the dominant smartphone in the U.S., but its popularity is waning. Over the past six months, RIM's popularity has fallen sharply among new subscribers, from a high of 45 percent to 33 percent, according to Nielsen.
Whether that trend will continue might come down to RIM's big announcement scheduled for Tuesday morning. The company is expected to launch its latest operating system, BlackBerry 6. RIM will likely introduce new devices running the new OS, and some are even predicting a BlackBerry OS-based tablet could make an appearance.
Windows Phone 7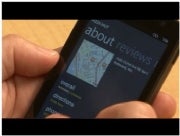 Depending on who you ask, Microsoft's new platform is either a great start or already a dismal failure. There is a lot of excitement and interest surrounding Windows Phone 7, and the lineup of Windows Phone 7 smartphone manufacturers at launch may include Asus, Dell, HTC and Samsung. But whether Windows Phone 7 can win over a significant amount of users to compete with RIM, Android and Apple remains to be seen.
The Other Guys
Nokia may be the worldwide leader in smartphones worldwide with its Symbian OS, but the company is nothing more than an also-ran in the U.S. That trend doesn't appear to be changing any time soon. Nielsen's numbers put Symbian well below 3 percent market share in the U.S.
The real wild card in the smartphone race is Palm's WebOS. Now that the company has been acquired by Hewlett-Packard, WebOS may get the financial backing it needs to become a success. But for WebOS to be a factor in the smartphone world, it will need more third-party apps and more appealing devices. WebOS handsets like the Pre and the Pixi were often criticized for their small screen sizes and flimsy construction. Aside from phones, there are also rumors of a WebOS tablet, which could be a very appealing use of Palm's WebOS.
One thing's for sure, if you're in the market for a smartphone this year, the one problem you won't have is a lack of choice.
Connect with Ian on Twitter (@ianpaul).