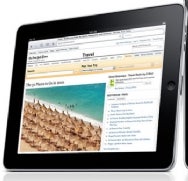 Want to make Apple an overnight success in the portable PC market? Just lump iPad and MacBook sales into one category, and the company jumps from the seventh to the third largest portable computer manufacturer worldwide. That's what Deutsche Bank analyst Chris Whitmore believes more investors should do when considering Apple's market share in portables, according to Fortune. Portable computers include devices like laptops and netbooks. Hewlett-Packard is the number one followed by Acer, according to Deutsche Bank.
It's not entirely clear why Whitmore believes the iPad and MacBook should be part of the same category, but one reason might be that iPads are taking a bite of notebook purchases. "The iPad is directly cannibalizing demand for other vendors' NB [notebook] products," Fortune quoted Whitmore as saying.
Whitmore also says that Deutsche Bank's research suggests the iPad is slowing sales in the portable computer market among the top five notebook makers. Other analysts have also noted that many people expect the iPad to fill in as a portable computer, specifically instead of a netbook. If Whitmore is correct, and the iPad is taking a bite out of portable computer sales, then I suppose it would make sense to put the iPad in the same category.
Then again, Apple's recent sales numbers showed a 33 percent growth in Mac computer sales between April and June 2010 compared to the same period last year. Whitmore noted the increased sales included a boost in MacBook sales. I guess the iPad prefers to eat up the notebook market share of Apple's competitors instead of turning against its own brand.
If, however, the iPad did cannibalize the Mac it probably wouldn't bother Apple too much. "If it turns out that the iPad cannibalizes PCs, then I think it is fantastic for [Apple] because there's a lot of PCs to cannibalize," Apple COO Tim Cook recently said.
But the iPad is not a laptop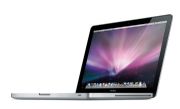 It may make sense to put the iPad in the same category as notebooks if people continue to purchase iPads instead of portable computers. But I am not so sure this trend will continue over the long haul. Does anyone seriously believe the iPad and the laptop are equals in terms of functionality? Laptops, including netbooks, are for serious work. They have a built-in keyboard and mouse, they can run multiple applications at once and are far more customizable. The iPad may work out in a pinch to fire off an email, write a quick proposal and enter a few numbers on a spreadsheet. But there's no way the current iPad could be considered a replacement for a laptop.
Once the iPad's popularity dies down a bit, I think we'll see the iPad and other tablets carve out a separate niche in the market apart from netbooks and laptops. In fact, the true test of the iPad's viability as a portable computer may come this fall when students start buying devices for the new school year. Will there be more iPads than laptops in college lecture halls this September? I doubt it.
Now don't misunderstand me. The iPad is most definitely a type of computer. But is it the same as a laptop or netbook? No way, it's not even close.
Connect with Ian on Twitter (@ianpaul).