Do you have more than one Google (or Gmail) account? If so, you've undoubtedly encountered the hassle of juggling them in your browser. You have to sign out of one in order to sign into another, and on and on. Major pain.
There were workarounds in the form of the Firefox add-ons, Greasemonkey scripts, and the like, but they were still something of a hassle. (Some people would even open different accounts in different browsers: one in Firefox, another in IE, a third in Chrome, and so on.)
Well, no more–Google's new "multiple sign-in" feature lets you access multiple accounts simultaneously in one browser.
Just sign into your Google Account, access the Account Management page, and then look for Multiple sign-in under Personal Settings. Click Change, then follow the prompts. (Note: Google is in the process of rolling out this feature, so don't be alarmed if you don't see it yet. As of this writing, I still don't.)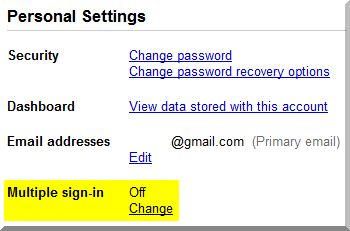 Currently, multiple sign-in works with Gmail, Google Calendar, Google Sites, Google Reader, Google Voice, App Engine and Google Code. When it's enabled, you'll see a drop-down next to your e-mail address at the top of the page. Two clicks and presto: you're switched to a different account.
Huzzah! I've been waiting for this forever. Google just scratched a major hassle off my list. Now, if they could just do something about Gmail message threading…