A first-time modder has completed a rather ambitious task–taking a motorbike and transforming it into a fully working computer.
The mod was completed by Bit Tech user 'Saigon', and took 12 days worth of work over the span of five months to complete. The project made use of a retired pocket bike, an Intel Core i7 920 processor, two hard drives totalling 1.5TB of storage, 6GB of DDR3 OCZ RAM, and lots of LED lighting.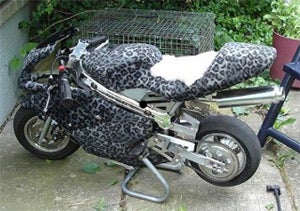 For those of you unaware as to what a pocket bike is, it's essentially a miniaturised motorbike which has a smaller CC engine and is not considered road legal. Modder Saigon, who is a pocket bike enthusiast, first acquired the customised bike back in 2006. The little bike didn't get much love, so Saigon decided to combine his enthusiasm for tech and pocket bikes, and create a pocket bike PC.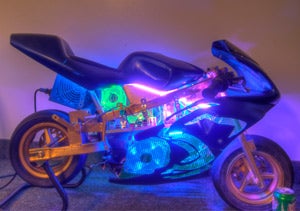 The completed overhaul transformed the bike from its original furry state into a blue glowing PC powerhouse. While you can no longer ride this pocket bike, it can cruise the Web instead.
Believe it or not, this was Saigon's case mod. Impressive!
You can find more pictures of the modification process and a full run-down of the unusual PC's stats over on Bit Tech. Alternatively, why not check out other case modifications here on PCWorld?
[Via Technabob]
For more Geek Tech updates follow Chris Brandrick and GeekTech on Twitter.
When you purchase through links in our articles, we may earn a small commission. This doesn't affect our editorial independence.