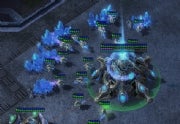 StarCraft II: Wings of Liberty sold 1.5 million copies in the first 48 hours, Blizzard Entertainment said Tuesday.
According to Blizzard, the highly-anticipated real-time strategy game sold more than a million copies within the first 24 hours, making it the most successful PC game launch of 2010 so far. The game went on to sell another 500,000 copies the following day, adding up to more than 1.5 million copies sold worldwide in 48 hours and officially making StarCraft II the fastest selling real-time strategy game of all time.
StarCraft II: Wings of Liberty, the 12-years-later sequel to the original StarCraft, was released simultaneously in North America, Europe, South Korea, Australia, New Zealand, Russia, Brazil, Chile, Argentina, Singapore, Indonesia, Malaysia, Thailand, the Philippines, Taiwan, Hong Kong, and Macau on July 27.
"We launched StarCraft II in 11 different languages and on 5 different continents because we wanted to make sure as many players as possible were able to log on and play on day one," says Blizzard CEO Mike Morhaime.
The original StarCraft sold about 11 million copies in the 12-year hiatus between StarCraft and StarCraft II, including 1.5 million the first year. StarCraft II has already topped the original StarCraft's first year sales–and analysts have already predicted that StarCraft II will sell upwards of five million copies in its first year. Looking at the numbers right now, that prediction even seems a bit low.
There are no more detailed statistics on StarCraft II sales right now–the game has only been out a week, after all (and yes, that's why all of your co-workers have huge bags under their eyes).