Bing Maps received an update that adds a slick new interface and an innovative app that calculates cab fares in major cities.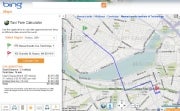 The overhauled version of Bing Maps is available now, but requires downloading the latest version of Silverlight. Also, if you're interested in the Taxi Fare Calculator, you need to click on the "map apps" button at the bottom of the screen, search for Taxi Fare Calculator, and add it in. (Click on the image to enlarge it.)
Updated Interface
The new Silverlight-powered version of Bing Maps incorporates a combination of raster tiles and vector graphics — complementary graphical tools designed to enhance images.

Bing Maps now has shading, tones and colors that, according to the Bing blog, work with the rods and cones of your eyeballs for a more pleasant experience. Here are the examples provided:
Cool colors visually recede allowing warmer overlays to come forward — an elegant backdrop for information delivery and helps content 'pop' on the map
Road color provides greatest differentiation scientifically from red, yellow, green traffic overlays
De-saturation on zoom allows more continuous transition to photographic material (Aerial, Birdseye, Streetside) and allows user to focus on street level detail better
Designed to work in black and white and to be differentiated by those with the most common forms of color blindness
Crisp/easy-to-read font, larger font corresponds to larger roads
Lower cognitive load — Less data and clearer details
Improved international coverage: Data updates deliver improved road and street detail across Central & Eastern Europe, Middle East, Oceania and Asia
OpenStreetMap
The Bing Maps update also includes the option to download the OpenStreetMap app. OpenStreetMap is an open source, editable mapping project that allo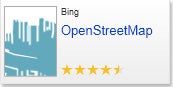 ws you to view, edit, and use geographical data in a collaborative way from anywhere on Earth — it's like the Wikipedia of maps.
Wired points out that OpenStreetMap can be crucial when dealing with natural disaster response efforts such as the recent earthquake in Haiti. OpenStreetMap's stats boast an impressive number of user contributions: the project has over a quarter of a million participants and over 1.8 billion uploaded GPS points.
App Additions
Microsoft recently launched the King of Bing Maps contest, wherein users create Bing Maps apps and vie for a winning position (the winner will be announced on August 20). Some of the contributions include the World of Football (pulls soccer scores and zooms in on soccer fields), Random Location (sends user to random location), and GeoSalesTax (overlays "heat map" on the United States map to calculate sales tax in different regions).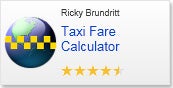 But the best app is the Taxi Fare Calculator. Type in a route and see the cost to get from one place to another via cab. I calculated the route from two awesome Boston bars — People's Republik and Delux Café — and came up with a pretty precise estimate of $11.69 for the trip. Since cabs and fares are usually relegated by cities, Bing Maps can provide a general ballpark figure for these trips. It also includes a "waiting time fee" for when the cabby is outside your apartment blaring on the horn.
Bing: Constantly Improving
Bing's recent improvements have been impressive, and Microsoft may have a fighting chance to give Google — specifically Google Maps — some hearty competition. What I'd really like to see is the Taxi Fare Calculator incorporated into Bing's ever-improving iPhone app, as hailing cabs on your smartphone makes more sense than plotting trips from your desktop.