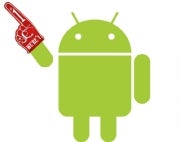 The good news keeps on coming for Google's Android, which overtook Research in Motion's BlackBerry to become the top-selling smartphone platform in the United States, according to The NPD Group.
During the second quarter, Android accounted for 33 percent of smartphone sales, NPD's consumer tracking determined. BlackBerry made up 28 percent of smartphone sales, followed by 22 percent for Apple's iPhone. Android already leaped over the iPhone in the previous quarter, but trailed Blackberry until now.
NPD says this is the first quarter since Q4 2007 in which BlackBerry has fallen from first place, but RIM's past dominance may go even further back than that. Estimates from Canalys for Q4 2007 still gave BlackBerry a huge margin over the iPhone, its nearest competitor, 41 percent to 28 percent in the United States. In any case, Android is outselling BlackBerry now, something the iPhone was never able to do, probably due to Apple's exclusive AT&T partnership.
Just to be clear, I want to draw a distinction between NPD's data and some other recent statistics from the Nielsen company. Nielsen determined that BlackBerry still has a commanding lead in overall market share, and also holds a lead in total smartphone sales over the last six months. Only during the last quarter, according to NPD, did Android start selling the most smartphones in America.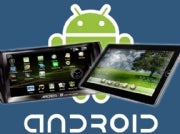 This means we're at a tipping point. If Android keeps up the pace, and BlackBerry can't turn itself around, it's only a matter of time before RIM loses its top spot in overall smartphone use.
Depending on how you look at it, the news was either perfectly timed or couldn't be worse for RIM, which just introduced the BlackBerry Torch 9800 smartphone and BlackBerry 6 OS. RIM had to play catch-up on features like a Webkit browser and social networking feeds, and that could be just what BlackBerry needs to get its groove back. But some pundits were disappointed that RIM didn't swing for the fences with revolutionary features.
All Google has to do, meanwhile, is stay the course by pushing the OS further, and Android can ride its multi-device, multi-carrier business model to number one.