Doesn't the Federal Bureau of Investigation have more important things to do? The FBI last month fired off a terse letter to Wikipedia, insisting that the online encyclopedia remove the FBI seal from its site. Here's a copy (PDF) of the letter post by the New York Times.
The FBI gave two reasons for its demand. First, it argues that unauthorized use of the seal, an official insignia of the U.S. Department of Justice, is prohibited by federal law. The letter states:
"Unauthorized reproduction or use of the FB I Seal is prohibited by 18 United States Code, Section 701, which provides: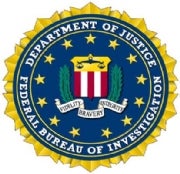 Whoever manufactures, sells, or possesses any insignia, of the design prescribed by the [Department head] or any colorable imitation thereof, or photographs, prints, or in any other manner makes or executes any engraving, photograph, print, or impression in the likeness of any such insignia, or any colorable imitation thereof, except as authorized under regulation made pursuant to law, shall be fined under this title or imprisoned not more than six months, or both."
Second, the FBI claims that Wikipedia's posting of the seal might encourage fraudsters to use the logo for nefarious purposes:
"The inclusion of a high quality graphic of the FBI seal on Wikipedia is particularly problematic, because it facilitates both deliberate and unwitting violations of these restrictions by Wikipedia users."
Not surprisingly, Wikipedia's legal counsel strongly disagrees with the FBI's first point, arguing that the agency's legal team "misquoted the law," the Times reports.
The agency's second point–that Wikipedia is making it easier for miscreants to misappropriate the FBI Seal–seems silly. Go to Google Images and search for "FBI Seal." There are hundreds if not thousands (I stopped counting after a few pages) of sites that feature the FBI logo. On the top row of Google's search results is a 414 x 400 pixel image from–you guessed it–FBI.gov.
To be fair, the FBI's complaint focuses on Wikipedia's inclusion of a "high quality graphic," which explains why it isn't targeting the gazillion of other websites with lower-res images of its official logo. Wikipedia has a high-resolution image (2000 x 2060 pixels) of the FBI Seal. However, if you search diligently enough, I suspect you'll find that same image elsewhere online–particularly now that the Feds has made such a big deal about it.
Indeed, the FBI is getting J. Edgar Hoover's panties in a bunch over nothing.
Contact Jeff Bertolucci via Twitter (@jbertolucci) or at jbertolucci.blogspot.com.