I know a handful of people who suffer from netbook-buyer's remorse: they bought one of the inexpensive little machines, then stuck it in a closet when they discovered how sluggishly it ran Windows.
If you're in the same boat, you might be able to give that system a new lease on life. Jolicloud is a free, Linux-powered operating system designed specifically for netbooks. It's fast (way faster than Windows), easy to use, and better optimized for cloud computing.
The OS offers just the basics, without the clutter. It comes with about a dozen apps already installed (Facebook, Dropbox, Gmail, Google Docs, etc.), but you can browse a library of hundreds more–all of which are free to download. I think it's safe to say that virtually everything you can do with Windows, you can do with Jolicloud.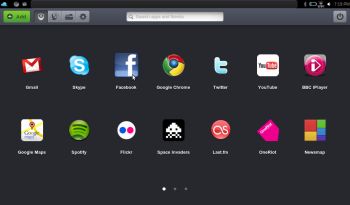 The OS comes in two flavors. The first installs alongside Windows, creating a dual-boot configuration. That's great because it leaves your existing Windows installation alone, allowing you to return to it as needed (and uninstall Jolicloud as easily as uninstalling any piece of software).
You can also load Jolicloud on a CD or flash drive, then boot from either one (keeping in mind that netbooks don't have CD drives). Unless you're a tech-savvy user, I recommend going with the Windows installer.
Either way, Jolicloud is currently available only via Bittorrent. That might prove a hassle if you're not already familiar with it (in which case I recommend this beginner's guide).
I installed it on an aging Acer Aspire One. After a few confusing moments with setting up a Jolicloud account and activating the computer, I found myself navigating a speedy, stylish, mostly intuitive interface that never once left me longing for Windows. Admittedly, there's a learning curve, but I think most users will figure out the basics fast enough.
Speaking of fast, I can't say Jolicloud booted significantly faster than Windows on my Aspire, but overall operation was definitely zippier.
I'm not 100% decided I'll stick with Jolicloud, only because it still seems a bit buggy, but I like what I see so far. It's a lovely, simple operating system, one that can breathe new life into old or unloved netbooks. If you own one, this is definitely worth a look.
When you purchase through links in our articles, we may earn a small commission. This doesn't affect our editorial independence.