Sales of Android phones are soaring and are paced by the growth in the number of apps–more than 60,000–that are available in Android Market.
Quantity, however, doesn't always mean quality. We took a dip in the app pool and came up with 19 really dumb Android apps.
They range from the ridiculous to the downright dangerous. Some of them appear to be based on good ideas, but fail badly in implementing them. Others, well, let's just say that words like "misleading" or "underdeveloped" apply here. All are pretty much guaranteed to waste your time.
Let's dig in.
Get Moving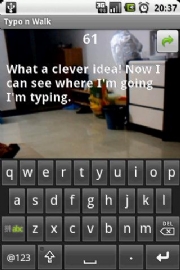 Type N Walk (free) is "the new, smarter way to type while walking. Lets you see what's in front of you while typing and walking." This app uses your Android phone's camera and superimposes your text message over the view as you type and walk, so that you can more confidently fall into a hole (or other hazard of your preference) that is outside of your camera's viewing area. As an added benefit, this app rotates the camera view sideways so that you can more conveniently fall into a hole.
Priceless.
FlightDeck-Artificial Horizon (free): The developer of this app says, "Being a private pilot, I developed this tool as a back-up artificial horizon while I'm flying. It uses the built-in orientation sensors on your Android phone to provide you pitch and yaw information in real-time."
Nice… IF you have always wanted to die in a plane crash.
CarSafety (free): "If you ever get into a car accident, the emergency alarm on your phone will go off. If this alarm is not turned off within 60 seconds, CarSafety will send an SMS with the GPS coordinates and address of the accident to a pre-determined number. — do not work in sleep mode at some phones!" It attempts to use your Android phone's accelerometer to detect if you are involved in a car accident.
Oops, I dropped my phone; now my family thinks I've been in a traffic accident and is dialing 911. This app also runs in the background, eating up your battery life while waiting for the relatively unlikely accident to occur.
Pocket Agent (free): "Pocket AgentTM lets you contact your agent, submit a claim, check balances of State Farm Bank and Mutual Fund accounts, view insurance policy information, search and locate State Farm Select ServiceTM Repair Facilities, hotels, rental cars, emergency contacts and much more!" You need to create an online, password-protected account in order to file claims with the app. If you mess up your log-in three times (easy to do when using a touchscreen keyboard), you will be locked out of the app and invited to call a toll-free number to reactivate it.
That's almost as convenient as… just calling your insurance agent in the first place.
Time Bandits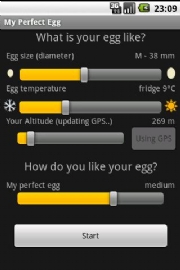 My Perfect Egg Timer (free): "My perfect egg timer calculates the exact time for boiling eggs. Taking the egg diameter, egg temperature, and how hard or soft you want it into account, the app starts an egg timer once the egg is in boiling water. Shortly before the egg is done, you will be notified to take it out of the water." It also uses your phone's built-in GPS to detect your altitude and adjust the cooking time necessary to boil an egg to your desired doneness. If you are obsessed with boiled eggs, have a lot of time on your hands, and frequently change altitude, then you might like this app.
Or you could live dangerously and just put an egg in a pot of water and boil it.
GTD Timer (free): "Easily distracted? Or have a long list of tasks but not knowing how to begin? The idea from Merlin Mann may help you: Work for ten minutes with single-minded focus on moving toward completion on a single task. Then get a 2-minute break to do whatever you want." This app times you for ten minutes, then for two minutes. You can get really crazy and change the time increments.
Try installing a real timer app, such as MultiTimer, which can do the same thing, plus a lot more.
USA TV Guide (free) claims to be a "timezone based 3-day TV Guide." In fact, it simply opens up the Spanish-language Google Mobile page (Google para moviles ).
Wow. If you speak Spanish, now you can search for a real TV guide.
Get a Camera!
Share Your Board (free): "Application for capturing, processing and sharing whiteboard data. Save every idea that pops up in a meeting, a brainstorming session, or a class." With this app, you can photograph and share the whiteboard from your office meeting.
Alternatively, you can do the exact same thing with a marvelous piece of technology built into your Android phone. It's called the camera. (You might assume that Share Your Board does something extra… but it doesn't.)
eScrap Free (free) provides "document scanning with phone camera. Functions: * Fix geometry, contract, brightness. * Share documents with other apps (Gmail, Evernote, etc). Limit of free version: * Not support large size." The free version limits your "scan" to 800-by-600 pixels.
Yes, that's right: this app actually has less functionality than your phone's built-in camera and camera app. That's a negative-value-add, in marketing-speak. In English: Worse than a waste of time.
Next: Business and Beauty Apps
Getting Down to Business
HowTask (free): "Control the Task! And, you can send a mail! " HowTask is–sort of–a To Do app… I think. You can create a task, label it, and assign it a date. You can e-mail the task, or modify it, or delete it… and that is all. Perhaps your first task should be to install a better app, like GTasks.
Second task: Uninstall HowTask.
MyLetter-Handwriting on Phone (free): "Use MyLetter to create handwriting letter, notes, MMS etc. full of your personal style." That is, if your personal style is illegible and childlike. It does not transcribe your writing. The interface is awkward, and the resulting "letter" is just a .png image with your poorly scrawled, semi-legible words on it.
Why not just write a letter on a real piece of paper, photograph it, and e-mail the image?
Business Cards (free): "Take a picture of your business cards. Organize them by organization and Person. View and zoom your business cards. Search them. Send them via e-mail. No OCR." You could also use the built-in camera on your Android phone to do the same thing. Business Cards doesn't have OCR (Optical Character Recognition), so you can't extract text from the images.
If you want a really useful way to organize business cards, Google Goggles (free) can extract text from business cards, then add the information into your Contacts.
Beauty in the Eye of the App?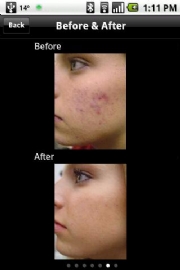 Skin Cleanser ($0.99) "uses a specific sound frequency and a yellow color wavelength from the Imperial Topaz gemstone to help clean the skin of dark spots, sun spots, and acne scars."
Finally, a convenient alternative to soap and water!
Acne Clear ($0.99) "uses a specific sound frequency and a blue color wavelength from the Lapis Lazuli gemstone to help clear and detox the skin."
Move over, Proactiv.
Baby ESP Trial (7-day free trial) helps you "track when your baby Eats, Sleeps, Poops (ESP)."
Really? If you need an Android app for that, perhaps you should hire a nanny. Just a thought.
Beauty Weight Test (free): "Women's Health is your source for health, fitness tips, weight loss … can pass this baby-blocker test." Um, okay. It provides you with a chart that matches your (metric system) weight and height to tell you if you are fat, slim or "ideal."
I'm still not sure if I passed the "baby-blocker test," or what passing it would mean.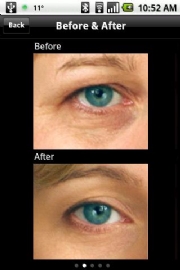 Eye Brightener ($0.99) "uses a specific sound frequency and a magenta color wavelength from the Rose Quartz gemstone to help reduce dark circles and puffy eyes."
I guess it beats holding actual stones over your eyes.
Odds and Ends
Facebook for Android (official version, free): "Facebook for Android makes it easy to stay connected and share information with friends. You can share status updates from your home screen, check out your News Feed, look at your friends' walls and user info, upload photos, share links and check your Inbox."
It actually is less functional than the Web browser version of Facebook. Just bookmark the Facebook URL.
Man Up! (Enhance Male Power) ($1.99): This list would not be complete without at least one male-enhancement app. By "just listening [to] some special brainwaves" you can "heal sexual dysfunctions that [are] caused by stress."
Perhaps you and your phone are spending a little too much time together.
Brent W. Hopkins is PCWorld's Android App reviewer. Looking for useful Android apps? Read the dozens of reviewed apps in our AppGuide.
You may also enjoy: The 20 Dumbest Questions on Yahoo Answers Top 10 Android Apps for Entertainment Verizon's Droid X: 12 Apps to Get You Started