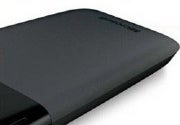 Microsoft's mystery product is a touch-based mouse, according to a scoop from Website Neowin. For the past week Microsoft's hardware division has been teasing us via Twitter with cropped thumbnails of the mystery product. And now thanks to "company insiders" who allegedly spilled the beans to Neowin it is believed to be Microsoft's own version of Apple's recently announced Magic Trackpad.
The mouse from Microsoft will be called Arc Touch Mouse, according to Neowin's sources, and will arrive sometime in September. Listings of the new Arc Touch Mouse also appeared on two resellers' lists last night, one from Wisconsin, U.S.A., and one from Norway.
The pricing for the Microsoft Arc Touch Mouse will be in line with Apple's Magic Trackpad, at just under $70, according to the two product listings. Microsoft also registered the arctouchmouse.com Web domain on March 30, making a solid case for the naming of the product.
Since Microsoft did not confirm the existence of the Arc Touch Mouse, there is still a possibility that the product teased on Twitter by the company is something else. My colleague JR Raphael had a run-down of the possible product in Microsoft's teaser shot, which includes a phone, a new Zune, or a tablet.
However, a touch-based Microsoft mouse would be a cheaper alternative to the more expensive touchscreen displays used in the latest range of Windows 7 computers, despite the fact that Neowin's report claims multi-touch won't be on the feature list of the Arc Touch Mouse initially.
Follow Daniel Ionescu ( @danielionescu ) and PCWorld ( @pcworld ) on Twitter.
When you purchase through links in our articles, we may earn a small commission. This doesn't affect our editorial independence.