RIM revealed the BlackBerry Torch 9800 this week with much fanfare, but with mixed reviews and a lukewarm reception. The launch of the BlackBerry Torch seems déjà vu–reminiscent of the hype and reception of the Palm Pre which ultimately turned out to be Palm's swan song.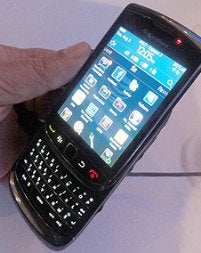 The Torch is supposed to catapult the aging BlackBerry product line to the forefront–enabling RIM to compete head to head with cutting edge smartphones. RIM set out to embrace the best of what the iPhone-generation has to offer while maintaining core BlackBerry features–such as the signature physical keyboard–to breathe new life into the stagnant BlackBerry brand and give businesses and users a reason to stick with the respected–yet waning–smartphone leader.
RIM's next-generation smartphone is better suited to compete against the first-generation iPhone, though, than current smartphones like the iPhone 4 and Droid X. The processor, display, memory, and app market for the BlackBerry Torch are all abysmally inferior to what Apple and Google have to offer.
Based on the initial reaction and early reviews for the BlackBerry Torch, it seems like the device offers little real competition for the current generation of smartphones. However, the BlackBerry Torch could still be a success by some measures because the captive audience of business professionals locked into the BlackBerry culture will embrace the inferior device because it is still better than the other devices RIM has to offer.
Combined with the struggles RIM is facing over security and privacy issues with the governments of India, the United Arab Emirates, and Saudi Arabia, and the snub of the European Commission–selecting the Apple iPhone and HTC smartphones over the RIM BlackBerry platform for its employees–the future of RIM doesn't look very bright.
It seems like it's only a matter of time until RIM follows in Palm's footsteps and ends up on the auction block. Apple and Google already have superior smartphone and tablet platforms, but there is a struggling smartphone competitor out there uniquely suited to take advantage of a RIM purchase: Microsoft.
Microsoft could be like the New York Yankees of smartphones–spending money to make up for a lack of in-house talent and buy its way to the top. Purchasing RIM and incorporating–or cannibalizing–its intellectual property could enable Microsoft to leapfrog competing smartphone platforms like iPhone and Android.
Initial reviews of Windows Phone 7 suggest that Microsoft will soon have a more compelling smartphone platform to offer even without purchasing RIM. But, if Microsoft could successfully merge Windows Phone 7 into the established corporate culture built around the RIM BlackBerry platform, it could finally have the dominant presence it rightfully should have in the business smartphone arena.
There were about eleven months between the launch of the Palm Pre–heralded as an "iPhone killer"–and the sale of the company to HP. Where will RIM be this time next year?