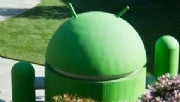 Google Wave may be gone, but there are still reasons to rejoice in Googleville. One of them is the continuing good news about sales of smartphones running Google's Android operating system. While the shock of Searchzilla's announcement that it was driving a stake into the heart of its experiment in collaboration, its boss revealed to a gathering of reporters at Techonomy in Lake Tahoe, California that Android smartphone activations have reached 200,000 a day.
That's an increase of more than 200 percent since over this year's first quarter, when activations were around 65,000 a day. At 200,000 activations a day, one million Android phones would be sold every five days, six million every 30 days and from August 1 to the end of the year, 30 million new handsets would be in consumers' hands.
But that's if sales remain static at 200,000 a day. That hasn't been the case all year. Just two months ago, sales were at 100,000 a day. One month later, they'd climbed to 160,000. Given those kinds of increases, 30 million headsets by the end of the year is a very conservative estimate.
All those sales have come at a cost to other smartphone makers. Research In Motion's BlackBerry smartphone line has seen its market share shrink by nine percent, to 28 percent of the U.S. market, according to the NPD Group. And in a much ballyhooed event, Android U.S. sales passed the long time top dog in the smartphone market, Apple's iPhone. During the first half of the year, Android U.S. sales accounted for 27 percent of all smartphone sales during the period, compared to 23 percent for Apple, according to Nielsen.
Of course, amidst this celebration over Android sales, perverse sorts might raise the ghost of Android's greatest failure–the Nexus One, an Android smartphone made by Google that went the way of Wave, but who wants to rain on Google's parade?