Personal navigation systems are about to get a lot more personal. Japanese engineers have created a prototype device that places GPS navigation technology into a pair of wearable, seemingly everyday, glasses.
The prototype specs, which were unveiled at last months Wireless Japan 2010 expo in Tokyo, offer an insight into how future GPS navigation systems could work. The glasses, known as the 'Wearable Personal Navigation System', house a battery, a microcomputer, a magnetic directional sensor and a number of LED lights.
To put the glasses to work on getting you to your destination, you would need to enter your destination using a computer. Once a walking route has been calculated and sent over to the glasses.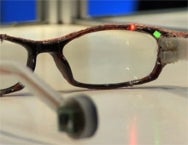 The glasses have integrated LEDs postioned in a circular fashion around the frame. The LEDs, which are visible in a user's peripheral field of vision, will then change their color and placement in order to show which direction you should be walking.
The engineers responsible for the glasses at the University of Electro-Communications' Nakajima Laboratory explained that navigation systems available today have a few problems that this prototype aims to solve. Current GPS devices–such as smartphones–require you to look down at a display while moving, instead of watching where you're going. With these glasses, you'd be able to look ahead instead of looking down.
With a little more development and a sleeker design (maybe in sunglasses?) this product would no doubt have its place within any geek's gadget collection.
Where do you see wearable tech going? Anything you'd like to see? Be sure to let us know in the comments.
[Via Slashgear]
Like this? You might also enjoy…
Follow Chris Brandrick and GeekTech on Twitter.