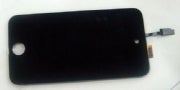 Rumors are piling up suggesting the next-generation iPod Touch will get FaceTime video chat thanks to a new front-facing camera.
The latest rumblings are based on two photos from an iPhone parts supplier purportedly showing off the LCD panel and bezel for the next iPod Touch. The part features a space at the top that appears to be a perfect fit for a front-facing camera. The photos were obtained by MacRumors.
This is not the first time purported iPod Touch parts have surfaced showing off a space for a front-facing camera; however, what gives these photos a little more credence is that the part is clearly marked "Apple © 2010." Take a look at this larger version of one of the photos to see the markings. That's by no means definitive proof, but it does suggest this might be the real thing.
If the rumors are true, the new iPod Touch would be Apple's second device to get FaceTime after the new application debuted on the iPhone 4 earlier this summer. Unlike the iPhone, however, FaceTime on the iPod Touch would use your contacts' e-mail addresses instead of phone numbers to call other users, according to MacRumors.
Fresh rumors about revamped and brand new Apple devices are likely to increase over the next few weeks as we get closer to September. Typically, Apple refreshes its iPod lineup and the iTunes software during this time. The company has yet to announce an iPod event date for 2010, but it is widely expected to do so within the next few weeks.
The MacRumors photos come just one day after iLounge said it had learned from an anonymous source about Apple's plans for new iPods (including a smaller iPod Touch), a 7-inch iPad, and a new iPhone.
Connect with Ian on Twitter (@ianpaul).