The Blackberry Torch 9800's high-profile launch wouldn't be complete without a teardown.
Will you be amazed by what's inside? Probably not, but at least you can see how the Blackberry Torch's sliding mechanism works, and where Research in Motion planted the antenna.
Crackberry got the first look at the Blackberry Torch's innards. In a video (embedded below), you can see how the vertical slider is a smaller panel on top of a larger one.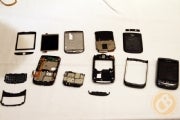 As I mentioned in the Blackberry Torch visual tour slideshow, this is a case of screen sliding up, rather than keyboard sliding down. That solid base for typing will probably be the Blackberry Torch's most alluring hardware feature. Crackberry says the slider is rated for more than 150,000 cycles.
Antenna placement wouldn't have been a big deal a couple months ago, but then complaints about the iPhone 4's external antenna emerged, and Apple countered that all phones, including Blackberry handsets, experience signal attenuation when held a certain way. RIM was among several co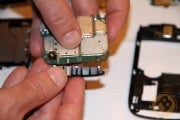 mpanies who denied they share Apple's problems.
I'm not an antenna expert, so I can't give you a scientific rundown of the Blackberry Torch's antenna placement, but it does appear to be housed in its own bumper and attached to the main board. I'd be surprised to see any death grip issues.