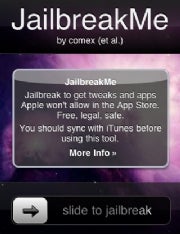 Can't stop the jailbreak 'cuz the jailbreak won't stop. That's the message at least one iDevice jailbreaker sent to Apple this week after the company–and other retailers–apparently decided to block access to JailbreakMe.com on in-store Wi-Fi networks, according to 9-to-5 Mac.
Earlier this week, Engadget noted that some customers were jailbreaking iPhones in Apple Stores themselves (more specifically, jailbreaking floor models), using the JailbreakMe hack. The easy solution to this would be to block JailbreakMe.com from the in-store Wi-Fi–or so Apple thought. Apple, however, did not account for mobile Wi-Fi hotspots–the bane of Steve Jobs's WWDC keynote–such as the MiFi or the Wi-Fi hotspot features of a number of recent smartphones.
Oops.
And since it's pretty easy to change which Wi-Fi network the iPhone connects to, well, you can probably guess the rest.
One hacker attempted to jailbreak an iPad on display at a Best Buy store, but found that the store blocked JailbreakMe, but was able to circumvent the block using his Nexus one. Here's the video the hacker posted to Vimeo (via Engadget):
This isn't the first time I've heard of people trying to jailbreak floor model iDevices. In 2008, two teens claimed that they were banned from the Apple Store for jailbreaking an iPhone on display. No word yet if anyone's been booted from an Apple Store this time around.
The moral of the story? Good luck trying to stop a determined modder.
[IT Geek on Vimeo and 9-to-5 Mac via Engadget]
Like this? You may also enjoy…