The global smartphone market is turning into a cheesy 1950s sci-fi flick: Androids are taking over.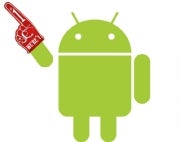 Market researcher International Data Corporation (IDC) on Thursday released the latest findings from its Worldwide Quarterly Mobile Phone Tracker survey, and the news was stellar for Google and its mobile hardware partners. The global smartphone market grew a healthy 50-percent year over year in the second quarter of 2010 (2Q10), with much of that growth coming from mobile device vendors using Google's Android operating system.
Attack of the Androids
In IDC's Top 10 vendor rankings for 2Q10, Google's Android partners, including HTC and Samsung, posted the highest growth rates. Even more dramatic is the fact that four Android vendors in top 10 list had year-over-year growth rates topping 100 percent.
Not surprisingly, HTC shipped more Android devices than any other supplier last quarter. The Taiwan-based smartphone manufacturer has quickly risen to prominence in the high-end mobile market by launching several well-received handsets, including the Droid Incredible and EVO 4G.
"Emerging smartphone suppliers, such as HTC, that are allied closely with Google gained share at the expense of the historic top smartphone players last quarter," said IDC analyst Kevin Restivo in a statement. "This is largely a result of greater consumer interest in smartphones generally and Android devices in particular."
However, Android has yet to dethrone the top three smartphone makers–Nokia, Research In Motion (RIM), and Apple–none of which has any immediate plans to use Google's mobile OS: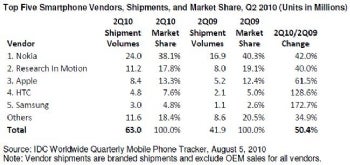 While Android has had a great run thus far, the coming months will bring a true test of its market mettle. Competition is intensifying. Apple's new iPhone 4, despite its various glitches, is selling well, and RIM just launched its new BlackBerry 6 OS and Torch 9800 smartphone. Nokia, the number one smartphone vendor worldwide, has high hopes for MeeGo, a Linux-based mobile OS that it's designing with Intel for a series of mobile devices, including phones, netbooks, and tablets. And perhaps the biggest wildcard is Microsoft's upcoming Windows Phone 7, an impressive-looking mobile OS slated to debut on several smartphones by the end of the year.
Can Android continue its rapid rise to smartphone dominance, or will its competitors deliver a stinging smackdown?
Contact Jeff Bertolucci via Twitter (@jbertolucci) or at jbertolucci.blogspot.com.
When you purchase through links in our articles, we may earn a small commission. This doesn't affect our editorial independence.