At a Glance
Expert's Rating
Pros
Tool-free and easy to manipulate for upgrades
Great price-to-performance ratio
Cons
Limited slots for PCI upgrades
Our Verdict
If price is no object, you'll be hard-pressed to find a better power PC than the beautifully constructed Black Ops Assassin from Digital Storm.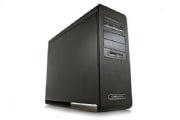 It's no secret that the customized design, features, and loadouts of performance PCs tend to get more unusual and awe-inspiring the higher up the price list one goes. That's not to say that excellent inexpensive systems don't exist; it's just that the true Everests of the computing world demand a bit more dough. But not that much. Digital Storm's Black Ops Assassin is a terrific combination of beauty and performance that doesn't break the bank ($3391 as of August 9, 2010) for the dominance it delivers across nearly all the categories we analyze in a typical system review.
We normally start PC reviews with a breakdown of the system's internal components. In this case, however, it's the Assassin's overall look and feel that drives home the kind of user experience that waits around the corner. Digital Storm's excellent use of a Silverstone FT02 chassis means that a majority of the system's guts are flipped on their side: All the components connect at the top of the chassis instead of at the rear. The case thus leaves plenty of room for three 180mm fans that thoroughly ventilate the rig from bottom to top, coupled with a soundproofed side window to shield your ears (and mental state) from the din.
The only things that aren't screwless on the Assassin's interior are its PCI devices. That said, you likely won't mess around much in this area due to lack of room–only one free PCI Express x8 slot exists–and a lack of desire, as you probably won't need to upgrade the system's powerful dual-nVidia GeForce GTX 480 configuration for some time. The case's three free hard-drive bays feature handy trays for sliding drives in and out, and the Assassin's two free 5.25-inch bays (of four available) employ huge, individual buttons to help you stick your devices in place.
Even considering the borderline-absurd air cooling in the Assassin, it's interesting that Digital Storm didn't opt to slap a water-cooling setup over the system's Intel Core i7-930 processor. The CPU is overclocked from its stock frequency of 2.8GHz, up to 3.8GHz. That tweak–together with the system's 6GB of DDR3 memory and 128GB SSD boot drive–helped the Assassin shoot close to the top of the rankings on our WorldBench 6 general-performance tests, with a score of 172. That's a mere 9 points behind the mark of the $7000 Maingear Shift, but a significant cost-for-performance victory.
The system's SLI GTX 480 graphics cards look hefty, and they are; they delivered excellent performance on our Unreal Tournament 3 benchmark. However, the 173.4-frames-per-second result we saw from the Assassin on the 2560-by-2100-pixel, high-quality version of the test is still no match for the triple-CrossFire setup of the Maingear Shift and its 203.9-fps showing. The Shift is clearly the superior gaming system in terms of raw graphical performance, but, again, you could pick up two Assassins for what one Shift will set you back. That's quite an investment for 25 more frames per second.
You would expect that a system of this caliber would come with a stacked connection setup. And this Assassin is fairly equipped to kill in that regard. Three USB ports and a multiformat card reader await you on the front of the FT02 chassis, along with a DVD burner and a Blu-ray drive.
As mentioned earlier, since the case flips the motherboard 90 degrees, the rest of the system's connections can be found on its top. There, S/PDIF coaxial and optical ports join eight USB ports, a gigabit ethernet port, integrated 7.1 surround sound, and an eSATA port, as well as four DVI ports and two HDMI ports on the graphics boards themselves. We did notice the lack of USB 3.0, however.
Although the system comes with a comprehensive support package, including customized image discs, driver CDs, and a personalized user manual, the Assassin ships with no preselected input devices. You're on your own for that one. Digital Storm apparently suspects–rightly so–that anyone spending this much money on a performance PC will want to tailor their mouse and keyboard to their own individual specifications.
The joke is as obvious as any, but Digital Storm's Black Ops Assassin is truly a killer performance PC. Minus a misgiving here and there related to the system's connections, there really isn't anything to dislike about this wickedly fast system. It doesn't top our performance charts, but it comes pretty close without hurling a ninja star at your bank account. In the end, it offers the kind of elegance and grace you'd expect from only the most masterful of PCs, a designation the Assassin has truly earned through its design and function.