At a Glance
Expert's Rating
Pros
Excellent mix of connectivity options
Hot-swap bay makes transporting drives easy
Cons
Ugly exterior and interior
Poor price-to-performance ratio
Our Verdict
Even bundled with a 23-inch monitor, Polywell's Poly 890FX performance PC has a pretty high price. At this cost, a little more TLC from Polywell toward the system's design could have done wonders.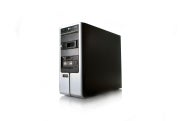 It's common knowledge that when PC makers use an AMD processor in a system–especially in the performance PC category–they do so to reduce the overall cost while building a desktop that can still compete against models carrying the best that Intel has to offer. With that in mind, you might find yourself scratching your head when considering the Polywell Poly 890FX, a $2999 (as of August 6, 2010) AMD-based desktop that, in both form and function, seems not quite worth the price.
Some of the cost went toward the bundled 23-inch display. A bit more went toward the six-core Phenom II X6 1090T CPU, which fuels the 890FX with 3.2GHz of processing power. Joining the mix are 8GB of DDR3 memory, a 40GB solid-state drive for booting, and a 2TB hard drive for storage.
On our WorldBench 6 test suite, the 890FX earned a score of 145, an admirable result for the performance PC category. Quite a few competing systems, though, hover around this mark and can be had for several hundred dollars less than the 890FX. Minus the bundled display, the 890FX is $2700; the HP Pavilion Elite HPE-390t, to name one rival, is about $640 less expensive ($2059), and it achieved a WorldBench 6 score of 160 thanks to its Intel Core i7-980X processor.
Two ATI Radeon HD 5870 video cards drive the 890FX's noteworthy graphics capabilities, helping to bridge the price gap between this machine and the HP. On our Unreal Tournament 3 benchmark (2560 by 2100 resolution, high quality), the 890FX achieved an average frame rate of 126.1 frames per second, one of the highest results you're going to find anywhere from systems south of the $3000 mark on our performance PCs chart. In contrast, the HPE-390t's single ATI Radeon HD 5770 graphics board produced an average frame rate of 67 fps.
Given the 890FX's price tag, you might expect to find some fun little accoutrements that make the system shine compared with its less-expensive competitors. Not so. For starters, the chassis is an unsightly mishmash of gray and black that does little to fire up one's enthusiasm for such a pricey PC.
The wiring job inside the case is tragic to behold–and then there are the strange metal locking mechanisms used to hold the 890FX's 5.25-inch devices in place. We'd almost prefer using screws to lock parts and pieces into the single free bay (of four available). A single 3.5-inch hard-drive bay joins one free PCI Express x16 slot and one PCI Express slot as the only free, upgradable options you're going to find in the 890FX. And, as expected, they require screws to secure the various devices.
The front of the case houses four USB ports and a multiformat card reader, as well as the system's Blu-ray/DVD-burner combination drive. A lockable hot-swap bay below the optical drive gives you easy access for switching or removing a single hard drive at any time–it's a welcome addition, even though its aesthetics are poorly designed (and it sits smack-dab in the center of the chassis).
The system's rear offers six USB 2.0 ports, two USB 3.0 ports, an optical S/PDIF connection, an eSATA port, a gigabit ethernet port, integrated 7.1 surround sound, and a FireWire 400 port. Two DVI, DisplayPort, and HDMI connectors are situated on the respective graphics cards. On top of all that, however, Polywell throws a curveball into the mix by including a ROG Connect port, which is unique to the system's Crosshair IV Formula AM3 motherboard (by Asus). This port allows you to hook your system up to another compatible desktop and manipulate on-the-fly overclocking as you see fit.
Polywell includes a wireless keyboard and mouse in the box. The former comes with a few extra buttons for launching applications and controlling multimedia, whereas the latter is merely a generic two-button wireless Logitech mouse. Both are a step up from the standard keyboards and mice we see accompanying most systems, for what it's worth.
Fast components slapped inside a less-than-stellar case design give the impression of a rush job, which is the last thing you want to think about after shelling out $3000 for a performance PC (with a monitor or not). That kind of a price demands a greater attention to detail than what Polywell offers in the Poly 890FX, even given the system's great mix of connectivity, storage, and speed. If you can't beat the competition soundly on performance alone, you'd better beat them with style. Polywell seems not to have accomplished that here.