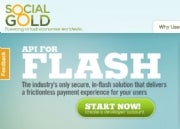 Google may be purchasing virtual currency-maker Jambool in its quest for social networking dominance, TechCrunch reported Monday.
The rumors are based on fodder from "multiple" unnamed TechCrunch sources, and have not been confirmed by either Google or Jambool. TechCrunch's sources suggest that the purchase price will total between $70 to $75 million.
Jambool is the developer of a virtual currency platform called Social Gold. Social Gold allows game and app developers to host virtual economies, complete with analytics and secure, in-game payments. Social Gold is priced per-transaction, and charges game developers between seven and ten percent of each transaction. Social Gold is currently used in some big name games, including Mafia Wars.
If you think Social Gold sounds a lot like Facebook Credits, you're right–it's very similar, except Facebook Credits takes a larger percentage (30 percent) as a fee. Jambool CEO Vikas Gupta actually wrote a blog post on "The Case Against Facebook Credits" a couple of weeks ago.
If the rumors are true, Jambool will be Google's eighteenth acquisition in 2010. Google just acquired Slide, a social networking software company, on Friday for between $180 million and $230 million. It appears that Google is trying to bulk up its resources for a social networking revamp–especially after it killed Google Wave, a social-networking-like platform, on Wednesday.
Google has declined to comment on the rumor ("We don't comment on rumors or speculation"), while Jambool has not yet responded.