Verizon is doubling-down on Android devices, according to reports, with a bevy of new devices headed to consumers soon based on the Google mobile operating system. New Android tablets and smartphones are on their way to Verizon, according to a scoop from BoyGeniusReport. The devices are said to come toward the end of this year and in early 2011, sources told the gadget blog, along with Android 3.0.
Android should steal the spotlight in Verizon's upcoming devices lineup, if the information from BoyGeniusReport's sources is accurate. The site reports that two Android-based tablets are in the works from both Samsung and Motorola, with 7-inch and 10-inch screens respectively.
The Android tablets from Samsung and Motorola, running on Verizon Wireless' network, would come with processors above 1GHz, and have front-facing cameras for video calls, the report says. Powering the tablets would be Android 3.0, which is rumoured to feature an overhauled user interface, to rival Apple's acclaimed iOS.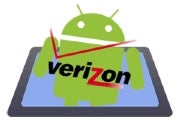 None of this Verizon roadmap leak is actually confirmed by the carrier, so take with a grain of salt the additional speculation that Motorola is also planning a new BlackBerry-like Android smartphone, which would also have a touchscreen. Add to the same bag a couple more unspecified Android smartphones from Samsung and HTC, and a so-called Motorola Droid Pro, with a 4-inch screen and 1.4GHz processor.
All these rumoured Android tablets and smartphones come alongside Monday's latest batch of Verizon iPhone rumors, which is now said to come in January 2011. Whether this turns out to be true as well, it is yet to be seen. Regardless, it looks like Verizon is ramping up its Android army, to tackle the iPhone 4, which is still selling strong, despite the Antennagate problems.
The said tablets from Samsung and Motorola also join the Android tablets fray coming up this year, as a response to the increased popularity of the Apple iPad, which now sold over 3 million. All its competitors so far, are still scraping their products for a launch later this year.