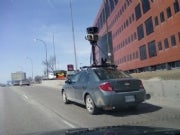 For South Korea, raiding Google's offices was better late than never.
Authorities are investigating whether Google illegally stored and collected personal wireless data as part of Google Street View. In May, the company admitted that its Street View cars were collecting private communications from unsecured wireless networks. Google said the data collection was an accident due to some years-old code from an experimental Wi-Fi project.
So basically, Google has already confessed to the deed, and now South Korea wants to figure out whether Google broke any laws with the Street View data collection gaffe. I'm guessing the raid in South Korea is more of a visit to collect information than a kick-down-the-door scenario; Google says it's cooperating with the investigation.
Meanwhile, other countries are either conducting their own investigations or have moved on. Germany, whose audit of Google Street View prompted the admission of guilt, continues to investigate. France, Italy and Spain launched inquiries as well.
The U.K. Information Commissoner's Office determined that the data collected "does not include meaningful personal details that could be linked to an identifiable person." Street View photography has resumed in the United Kingdom, Ireland, Norway, South Africa and Sweden.
The U.S. government's stance remains ambiguous. Some lawmakers have cried foul, and state attorneys general are asking questions, but the Federal Trade Commission's last-known plan was to "take a very, very close look," according to chairman Jon Leibowitz. That was more than two months ago. I wouldn't be surprised if South Korea draws its conclusions first.
When you purchase through links in our articles, we may earn a small commission. This doesn't affect our editorial independence.